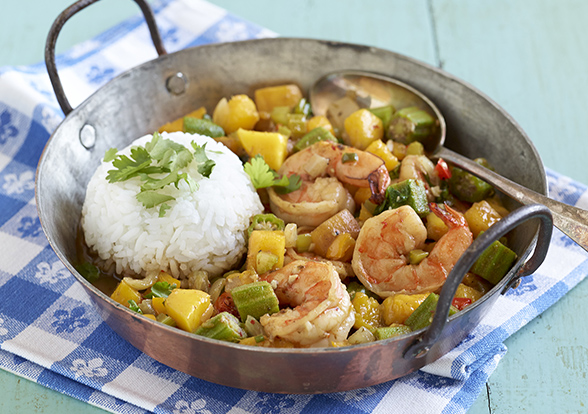 Colorful Shrimp and Mango Gumbo takes "Mangover Your Menu" Grand Prize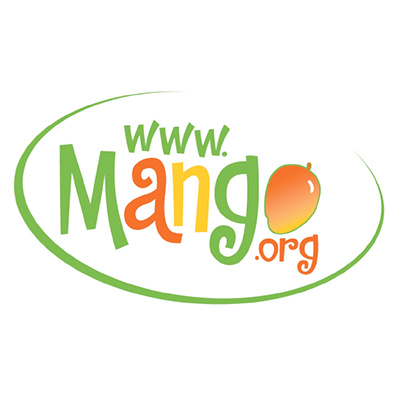 The National Mango Board has selected the winners in its 2014 Mangover Your Menu recipe contest for foodservice. The contest challenged entrants to use fresh mango to create a new recipe or reinvent an existing menu item in the following savory categories: appetizer, salad, entrée.
Chef Michael Garahan, chef consultant from Joliet, IL, won the Grand Prize of $1500 with his Shrimp & Mango Gumbo.
The recipe submitted by Chef Meryl Connelly, Southwest Soul Catering, Essex Fells, NJ, for Mango Manchego Cheese-Stuffed Jalapenos with Curry Cornmeal Crunch captured one $750 First Prize. Chef Allison Leono, Private Chef, Goodyear, AZ, claimed the second $750 First Prize with her Pulled Pork & Mango Summer Rolls with Carolina Mustard Sauce.
"I've never seen so many people so passionate about mangos," noted Chef Allen Susser, who served as one of the judges. "The contestants matched the colors, flavors and textures of the mango in a sweet, spicy, and aromatic harmony as naturally as any comfort food, yet with great creativity," A panel of judges appointed by the National Mango Board evaluated contest entires anonymously.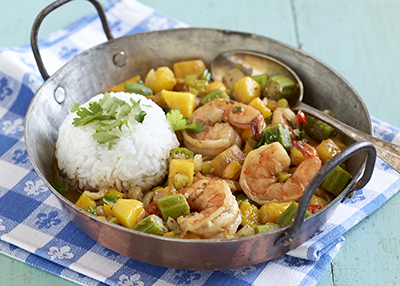 Shrimp & Mango Gumbo
Source: Chef Michael J Garahan, Chef Consultant, Joliet, IL
Yield: 12 servings
Ingredients:
2 ounces olive oil
2 cups Spanish onions, small dice
1 teaspoon sea salt
½ teaspoon freshly ground black pepper
4 cups fresh ripe mango pieces, peeled, pitted and cut about ½-inch square
2 cups cilantro leaves
2 ounces olive oil
2 cups celery, small dice
2 cups red and orange peppers, small dice
4 tablespoons jalapeno, small dice
2 teaspoons Southwest chipotle seasoning
48 16-20 count shrimp, deveined
4 tablespoons garlic, chopped
4 cups shrimp broth
2 cups okra, sliced ½-inch thick
2 teaspoons hot sauce
1 teaspoon sea salt
1 teaspoon freshly ground black pepper
6 cups rice, cooked
Cilantro, roughly chopped, for garnish
Directions:
Heat 2 ounces of olive oil in a 2-gallon rondeau; add onions, salt and pepper; cook until onions caramelize, about 8 minutes.
Stir mango pieces and cilantro leaves into the onion mixture; transfer to a 4″ half hotel pan; cover loosely and reserve at room temperature.
In the same rondeau, heat the second 2 ounces of olive oil.
Stir in the celery, peppers, jalapeno and chipotle seasoning; sauté 5 minutes.
Add the shrimp and garlic; cook another 5 minutes.
Remove shrimp; set aside.
Add the shrimp broth and okra; simmer 10 minutes.
Stir in reserved onion-mango mixture, shrimp and hot sauce; heat through to fully cook shrimp and season to taste with salt and pepper.
Plate with ramekin mold (about ½ cup) of rice; ladle one cup of gumbo (4 shrimp) around the rice and garnish with cilantro.
Winning contest entries are available at mango.org/foodservice/recipe-contest.
About National Mango Board
The National Mango Board is an agriculture promotion group supported by assessments from both domestic and imported mangos. The Mango Board conducts education and promotion campaigns that drive awareness and increase consumption of fresh mangos in at-home and restaurant settings. The superfruit mango contains 100 calories, an excellent source of vitamins A and C, a good source of fiber and an amazing source of tropical flavor.
Mango consumption per capita has increased 53 percent since 2005 to an estimated 2.87 pounds per year in 2013. Mango import volume for 2013 was 935 million pounds, up from 804 million pounds in 2012. For more information please visit mango.org/foodservice.