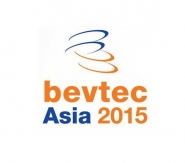 SUCCESSFUL PREMIERE OF BEVTEC ASIA
With 112 exhibitors and visitors representing 890 beverage producers, suppliers and industry related companies from 30 countries, the inaugural staging of Bevtec Asia 2015, Asia's Biennial International Drink Manufacturing Exhibition and Conference, in Bangkok has firmly established the event as the largest dedicated drink manufacturing platform for Southeast Asia.
Jointly organized by Messe Düsseldorf Asia and Asian Exhibition Services Ltd., Bevtec Asia 2015 showcased the complete scope of technology, products and equipment for beverage production in Asia – from laboratory to ingredients, processing, bottling and labeling to storage, distribution and marketing on 43,000 square feet of net exhibit space. The and the ASEAN Beverage Forum complemented the exhibits.
Exhibitors praised the quality and professionalism of the attendees. Max Duclot, Zone Senior Aseptic Specialist & Senior Dairy Officer at Sidel South Asia Pacific Ltd., remarked: "We are very happy to be Gold sponsors of the Bevtec exhibition. The market is growing very fast and this exhibition is a very good way to support the business in the industry". Sean Herrington of Maselli Asia Pacific, added: "The show has been very good, we've met interesting customers and had a good range of people coming through."
Representatives from key beverage companies visiting Bevtec Asia 2015 included Alcidini Winery, Asahi, Beer Thai, Black Canyon, Boon Rawd, Carabao, Coca Cola, Cosmos Brewery, Diageo Moet Hennessey, Dutch Mill, Green Spot, Haad Tip, Ichitan, Indo China Beverages, Lactasoy, Malee, Mitrphol, Oishi, Osotspa, Nestlé and Pepsico as well as Saha, Sakol Beverage, Sappe, Sermsuk, Siam Winery, Singha Corporation, Sky Cider, T.C. Pharmaceutical, Thai Bev, ThaiMilk, ThaiNamThip and Tipco.
The international participation at Bevtec Asia 2015 was very good. Leading producers from overseas presented the full spectrum of beverages ranging from water and soft drinks to functional drinks, coffee and tea as well as wine, beer and spirits. Companies included Bhutan Agro Industries, Nest Ankor (Cambodia), Bel Canto Coffee (Indonesia), F&N (Malaysia), San Miguel, Coca-Cola Far East (Singapore), Loi Hein Alpine Water (Myanmar), Bavi Milk, Suntory and Vietnam Beer.
Commenting on the trade visitors at Bevtec Asia 2015, Dr. Kai Uwe Richter of Veolia Water stated the "the quality is high and we're glad to be here." Worapanya Suthanupaphwut, Director of Food and Dairy of Patkol Plc, reported that "we met many guests from overseas and Southeast Asia, more than we expected."
The highest Asian attendance at Bevtec Asia 2015 from outside of Thailand came from Vietnam, followed by Malaysia, Singapore, Japan, Myanmar, India, Philippines, Indonesia, Cambodia, China, Bhutan, Hong Kong, Taiwan, Lao and Iran. Overall, 15.9% of the trade buyers were from overseas.
The Bevtec Asia 2015 visitors were mainly interested in beverage production and process equipment, followed by bottling technology, packaging and palleting, fruit juice and dairy processing, filling equipment, ingredients and additives, labeling, laboratory and test equipment, support services and refrigeration, storage and transportation. A total of 53% of the visitors were planning to make purchases either immediately or over the course of the next year.
Bevtec Asia 2015 was supported by the Ministry of Industry, the Department of Industrial Promotion, TISTR, under the Ministry of Science & Technology, TCEB, under the Office of the Prime Minister, the Thai Beverage Industry Association and the 3R Foundation, under the Federation of Thai Industries as well as the Food Science & Technology Association of Thailand, the National Food Institute and the Vietnam Beer Alcohol Beverage Association. "This event helps us to achieve our objective of developing and promoting the beverage industry, ensuring that we remain competitive with international standards and expectations," commented Dr. Nguyen Van Viet, Chairman of the Vietnam Beer Alcohol Beverage Association.
Bevtec Asia will return to Bangkok from the March 1 – 3, 2017. For further information on visiting or exhibiting at Bevtec Asia 2017, contact Messe Düsseldorf North America, 150 North Michigan Avenue, Suite 2920, Chicago, IL 60601. Telephone: (312) 781-5180; Fax: (312) 781-5188; E-mail: info@mdna.com; Visit our web site http://www.mdna.com; Subscribe to our blog at http://blog.mdna.com; Follow us on twitter at http://twitter.com/FoodBev_MDNA