Crema Gourmet Espresso Bar to Open
at BAC Colonnade Office Tower in Coral Gables
The popular South Beach café debuts its
second Miami location in downtown Coral Gables.
MIAMI, FL – May 21, 2015 – Following the success of its popular South Beach café, Crema Gourmet Espresso Bar has opened a second Miami location at the BAC Colonnade Office Tower, a 12-story Class A office building in downtown Coral Gables. Crema recently signed a 1,375 square foot lease on the building's ground floor, which is situated at 2333 Ponce de Leon Boulevard on the corner of Ponce de Leon Boulevard and Miracle Mile.
Danet Linares, Andres del Corral and Flavia Eternod of Blanca Commercial Real Estate represented the BAC Colonnade's ownership in the transaction. Financial terms were not disclosed.
Crema Gourmet Espresso Bar offers a variety of freshly pressed juices, smoothies, power drinks, coffees, teas and hot chocolate. Crema joins other popular restaurants in the building, including Morton's Steakhouse and SUSHISAMBA.
"The BAC Colonnade is located in the heart of Coral Gables' business district, steps away from hundreds of shops and restaurants, but there's no substitute for bringing an amenity like Crema straight to the building's tenants," said Danet Linares, vice chairman of Blanca Commercial Real Estate. "Crema will also become a popular meeting spot for the neighborhood's growing base of business people and residents. It's a perfect fit for the tower's 'main and main' location."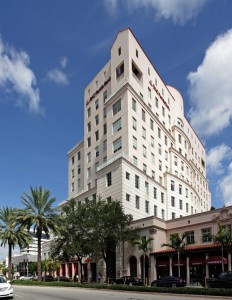 BAC Colonnade's direct covered connection to the adjacent Westin Colonnade Hotel, which is currently undergoing a series of renovations, provides tenants access to a host of hotel facilities including a fitness center, heated pool, meeting rooms, event ballrooms, and concierge services. Additional office tower amenities include ample garage parking with available valet service, on-site security and property management, on-site banking, conference facilities, ground floor restaurants, and available balconies in select suites. A Coral Gables trolley stop is located on-site providing access to an array of retail and restaurant amenities throughout Coral Gables as well as the Miami-Dade Metrorail system.
"Crema Gourmet Espresso Bar has been building a strong clientele at our South Beach location for years, and we're thrilled to be bringing our gourmet coffee and food concept to the heart of Coral Gables," said Fernando Ferro of Crema Gourmet Espresso Bar. "Between the BAC Colonnade building's office tenants upstairs, the adjacent Westin hotel and the countless businesses located in Coral Gables, we are confident there is strong demand for our concept."