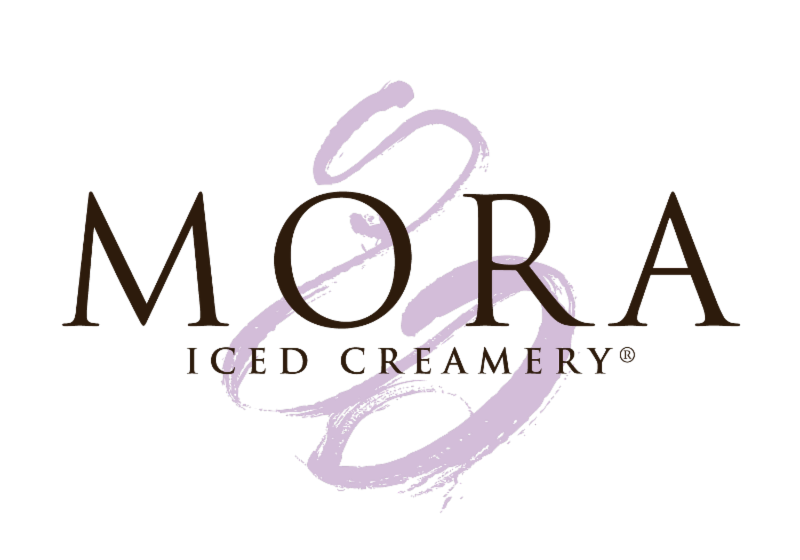 LOCAL COMPANY EXPANDS NATIONALLY:
HIGH-END – AND HIGHLY REVIEWED –
MORA ICED CREAMERY EXPANDS INTO FRANCHISING

Poulsbo, WA — It took nearly ten years of people asking about the ability to buy a Mora Iced Creamery franchise before founders Ana Orselli and Jerry Perez felt it was time to say…yes.
Founded in 2005, the company began manufacturing artisanal, small-batch ice cream on Bainbridge Island and, over a decade, slowly expanded by opening three retail shops in the greater Seattle area.
Often selling to tourists – and further buoyed by stellar reviews in national magazines and by tastemaker names like Zagat and Martha Stewart – those craving the hand-made ice cream but living outside of Seattle began requesting dry ice-packed, retail shipments of the ice cream and, says Orselli, they've been successfully shipping four-pint minimum orders to all fifty states on a daily basis. In fact, they had to build out a new, state-of-the-art factory just to accommodate the orders.
Which, Perez laughs, told them it was finally time to say yes to those that wanted to get in on the Mora Iced Creamery reputation through franchising.
"We've had people from Florida, California, Texas, Utah and other places saying 'this would be huge where I live! How can we become involved?" and, until now, all we could offer them was shipped ice cream! Ana and I are perfectionists and we wanted to make sure we had everything in place and finely tuned before we expanded into franchising and, ten years after launching the company, we're ready."

Certainly a part of that preparedness involved the new factory. At 10,000 square feet it would be considered tiny by the mega-producers in the frozen foods world but, to Orselli and Perez, that's the whole point.
"We import our equipment from Italy. We produce ice cream the way our grandmothers did…by hand and with love! We hand chop our fruit and shave our chocolate to each order. We still juice our lemons by hand and we pack and label and freeze each batch one at a time. We're still producing in small, artisanal batches but we're just able to do more of those batches each day. In fact, the new factory will allow us immediate production capacity of a million gallons of ice cream – albeit in small batches! – a year plus we've optioned an additional facility for expansion.
There was no way we would have allowed anyone to use the Mora name or buy a franchise until we knew everything was in place to ensure that a shop in Miami or Honolulu or Dallas was selling the same quality that we have here at our own shops. Plus we have an absolutely clean, unblemished safety record and we're committed to doing things slowly and carefully to ensure product and employee safety at all times."
Of course, the fact that many of those that have asked about franchising in the past are already ordering ice cream to be express shipped to their homes in other places around the country isn't lost on Perez and Orselli.  
"These folks are already fans and brand ambassadors. They already know that ice cream buffs are loyal buyers once they find what they want."
And, apparently, what folks want is Mora Ice Cream in flavors like Dulce de Leche, Stracciatella and Lemon Bar, a tart, fresh lemon ice cream studded with chunks of fresh shortbread cookie.   The company has developed more than 70 flavors including their dairy-free sorbets and seasonal favorites that involve either the freshest fruit available or holiday flavors like eggnog or goat cheese paired with chunks of Turkish figs.
In fact, says Perez, while the timing had to be right on their end to finally offer franchising, the timing was also right for the current trends in eating. "What new customers often comment on is the purity of the flavors they're tasting – the cinnamon, the pistachio, the fruit, the richness of the chocolate – and that's the beauty of something made with care. Our ice cream is significantly lower in fat than almost any other premium ice cream but all people notice is the depth of the flavor. Plus, with many people turning to vegan diets or at least a diet that doesn't involve dairy, our full range of sorbets are dairy-free which allows an entire audience of consumers who may feel locked out of most ice cream shops to see fresh, delicious options that are perfect for them."
While Mora's official launch date for the franchise expansion isn't until July 1,  
Jim Rowell, a franchise industry veteran heading up the new business unit within Mora, says that just via word of mouth he's already fielded dozens of calls and emails from people wanting to bring Mora to their city.
Many, says Rowell, are already franchise owners from within the fast-food or restaurant industries who want to capture the "dessert" category from within their existing customer and geographic base while others are looking at a Mora Iced Creamery franchise as their opportunity to go into business for themselves.
"I can think of a hundred upsides to a Mora franchise," says Rowell, "and only one downside…not eating the entire inventory!"
Mora Iced Creamery is currently taking franchise inquiries from interested parties. Those wishing more information should contact Jim Rowell at Jim.Rowell@moraicecream.com, (206) 855-1112 ext. 410.