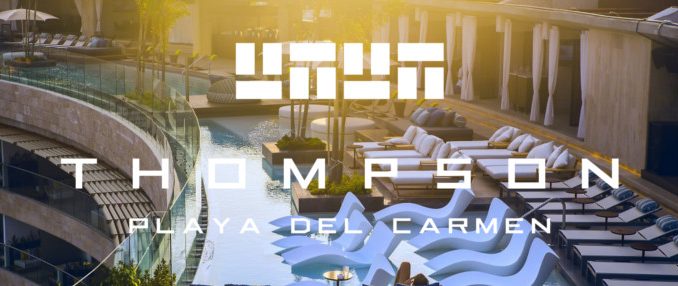 THOMPSON PLAYA DEL CARMEN ANNOUNCES FOURTH OF JULY WEEKEND CELEBRATION HOSTED BY POWERHOUSE CHEFS PEDRO ABASCAL, RICK BAYLESS, ALFREDO VILLANUEVA AND PAUL BENTLEY
World Renowned Chefs From the U.S. and Across Mexico Host Three-Day Culinary Festival to Celebrate America's Independence Day with a Mexican Twist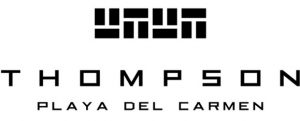 Thompson Playa del Carmen, the recently-debuted, first-of-its-kind boutique hotel in Playa del Carmen, today announced a Fourth of July weekend culinary extravaganza hosted by the property's Executive Chef Pedro Abascal.  The Mexican native and visionary behind the property's three innovative culinary concepts, CATCH, Cinco and C-Grill, will be cooking alongside James Beard award-winning Chef and Host of the popular PBS show Mexico: One Plate at a Time, Rick Bayless of Frontera Grill, Topolobampo, Xoco and Leña Brava in Chicago; Chef Alfredo Villanueva of Romero y Azahar, XBX CAFÉ, GastroPub and Horno de Leña in Monterrey, Mexico; and Australian Chef Paul Bentley of Magno and Saint Michel in Guadalajara, Mexico. The impressive quartet will host three days of culinary festivities on Thompson Playa del Carmen's Rooftop and oceanside at Thompson Beach House, including a beachfront cookout, taco and local beer festival, and an extraordinary Fourth of July celebration.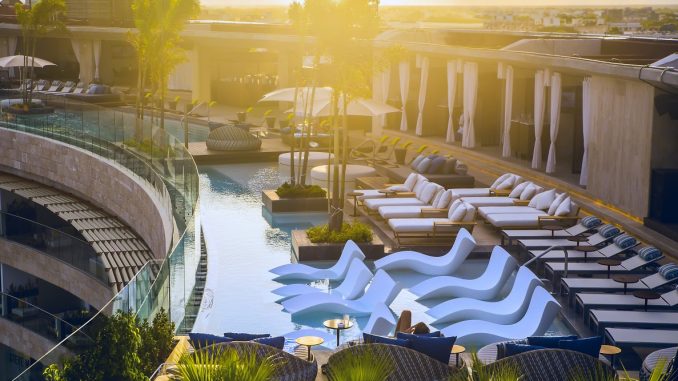 SUNSET COOKOUT AT C GRILL
SATURDAY, JULY 2
7 P.M.
At the exclusive Thompson Beach House, located just blocks away from the main hotel, Chefs Abascal, Bayless, Villanueva and Bentley will team up to host an interactive, toes-in-the-sand-style sunset cookout at C Grill with live music from local funk band, Elektrodealers.  The chefs will serve up dishes that pair perfectly with C Grill's Mediterranean-inspired menu items, including 'Takos Mykonos', Octopus and Chilean Salmon Carpaccios and 'Catch of the Day' Ceviche, just to name a few.  After, guests can stroll to the main hotel Rooftop and sway to tropical house sounds from a surprise guest DJ.
TACO AND BEER FESTIVAL AT CINCO
SUNDAY, JULY 3
12 P.M.
At the main hotel, located on buzzing La Quinta Avenida – considered the central point in the city's downtown region – guests can enjoy an afternoon fiesta featuring tacos and local beers at Cinco, the Rooftop's open-air Mexican restaurant.  Located on the 30,000 square-foot rooftop, the highest point in Playa overlooking the city and the Caribbean Sea, Cinco boasts some of the most breathtaking views in the city.  Each Chef will create the ultimate taco trio, including Cinco favorites, such as Chicken Tinga, Charred Octopus and Pork Belly and Tempura Soft Shell Crab tacos, and offer a special local draft beer pairing, including Victoria, Negra Modelo and Modelo Especial, ideal for cooling off in the Caribbean sun.  Adjacent to Cinco is the expansive infinity edge pool, the crown jewel of the Rooftop, complete with in-water lounges, 'island perches', swim-up bar and underwater living rooms – refreshing locations to dine and imbibe.  In addition, the pool is lined with chic, spacious cabanas, equipped with a dedicated wait staff, bottle service and flat screen televisions. A local DJ will be spinning daytime house sounds from the DJ booth.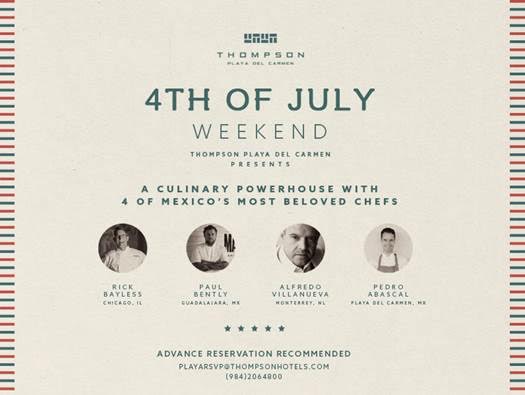 On the Fourth of July, the chefs will join together for a celebrity chef kitchen takeover at all three of the hotel's restaurants, including C Grill, Cinco and CATCH, located opposite of Cinco on the Rooftop.  Guests will be treated to a memorable 'musiculinary' experience, with special menu items, surprise live music sets from local bands and electrifying DJ appearances throughout the weekend.  Details will be announced in the days leading up to the special holiday.
Throughout the weekend, guests can take full advantage of the unique amenities at Thompson Playa del Carmen at the main hotel and Beach House, including world-class dining and unique cocktail creations at all three restaurants; lounging and socializing at the rooftop pool; and various seaside activities, including beachfront yoga, standup paddleboarding and diving.
For the full Fourth of July experience, guests can take advantage of Thompson Playa del Carmen's special 'July 4th Package', which includes:
$100 food and beverage credit per stay
Two VIP tickets to each culinary event with celebrity chefs
Two complimentary watersports rentals
Chef Pedro Abascal's exclusive ceviche recipe card
Rooftop or Beach House cabana for day-use, once per stay
For additional information about the events or to make reservations, email playarsvp@thompsonhotels.com or call 984.206.4800, and visit thompsonhotels.com/playa
About Thompson Playa del Carmen
Thompson Playa del Carmen debuted in November 2015 as the first luxury lifestyle hotel in Playa del Carmen, complete with two locations, each offering a distinct experience and vibe. Both locations showcase the creative talents of lauded Mexican architecture firms AS Arquitectura and Sejio Peon, along with notable designers Niz + Chauvet, who together fused mid-century Mexican accents with vivid geometrics in natural wood, tile and stone to create a 1950s-inspired, glamorous Mexican oasis. The 92-room main hotel is ideally located on lively La Quinta Avenida – Playa's two-mile, pedestrian-only thoroughfare featuring a large selection of shopping, dining and entertainment options – and Calle 12, which boasts the best bars and nightclubs in Riviera Maya. Perched atop the main hotel's expansive, 30,000-square-foot rooftop is CATCH, the first Mexican outpost of New York City-based EMM Group's popular dining and nightlife concept, and Cinco, an authentic, Mexican-inspired restaurant, along with a meandering infinity pool with island perches and in-water loungers, and 360-degree views of downtown Playa and the Caribbean Sea.  Located just a few blocks away, the more intimate, oceanfront Beach House features 27 luxury guest rooms and suites, an exclusive pool, private cabanas, oceanfront restaurant C Grill, and a plethora of seaside activities, including stand-up paddleboarding, diving and beachfront yoga.  Follow @ThompsonPlayaDelCarmen on Facebook and Instagram, and @ThompsonPlaya on Twitter for news and updates. For more information, please visit www.thompsonhotels.com/hotels/thompson-playa-del-carmen.
About Thompson Hotels
Founded in 2001, Thompson Hotels is an international hospitality company that offers sophisticated luxury to its discerning clientele. The Thompson portfolio of lifestyle hotels includes the newly-opened Thompson Seattle; Thompson Playa del Carmen in Riviera Maya, Mexico and The Cape in Los Cabos, Mexico; Gild Hall and Smyth in New York City; Thompson Chicago; Thompson Toronto; and Belgraves in London. Thompson Hotels also has multiple new projects opening soon, including The Beekman in Lower Manhattan and Thompson Nashville. Thompson Hotels is a Commune Hotels & Resorts brand. Follow @ThompsonHotels on Facebook, Twitter, and Instagram for news and updates. For more information, please visit www.thompsonhotels.com.
About EMM Group
EMM Group is one of New York's most successful and multi-faceted hospitality management companies.  Founded in 2006 by Eugene Remm and Mark Birnbaum, the company owns and operates a dynamic portfolio of venues including globally influenced, seafood-centric CATCH and CATCH Roof, located in the heart of Manhattan's Meatpacking District, CATCH Dubai and Lexington Brass, located in midtown Manhattan. For more information, please visit emmgrp.com, catchrestaurants.com, @emmgroupinc or @catch.
About Thor Urbana Capital
Thor Urbana Capital is a leading real estate investment and development company based in Mexico City, aimed to capitalize on Mexico's strong economic growth and real estate fundamentals. Through its vertically integrated platform, the firm specializes in the sourcing, acquiring, developing, repositioning, leasing, managing and disposing of multiple real estate projects, including lifestyle centers, luxury hotels and mixed-use projects located in the country's main cities and top tourist destinations. The depth and reach of the company´s sponsors and experienced management team, together with key relationships developed over decades of active real estate development and investment throughout Mexico and the U.S., uniquely position Thor Urbana Capital in Mexico's growing opportunistic and value-add commercial real estate arena.  The firm is currently developing over 7 million square-feet in various high-growth markets across the country, such as Mexico City, Guadalajara, Playa del Carmen, Merida, Metepec, and Los Cabos, among others. For more information, visit www.thorurbana.com.