INVENTURE FOODS EXPANDS ITS LICENSED JAMBA "AT HOME" LINE WITH PROTEIN-RICH SMOOTHIE FEATURING GREEK YOGURT AND ANCIENT GRAINS
Delicious, Ready-to-Blend Smoothie Kit Offers a Full Serving of Fruit, Eight Grams of Protein and Just 110 Calories per Glass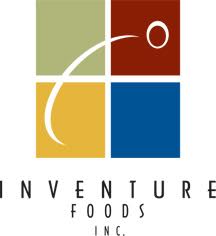 Consumers making healthy smoothies and smoothie bowls at home can rejoice as leading specialty food marketer and manufacturer, Inventure Foods, Inc. (NASDAQ:SNAK), advances its licensed Jamba® "At Home" line of ready-to-blend smoothie kits today with two new nutrient-rich varieties arriving in grocery, club and mass merchandise stores nationwide this month.
Pomegranate Pick-Me-Up and Berry Awesome Acai feature a blend of premium berries, fat-free Greek yogurt and ancient grains, including oat bran, amaranth, quinoa, buckwheat, millet and chia seeds. The unique recipes are as delicious as they are functional, offering healthy, on-the-go consumers a meal replacement snack that can be prepared in 90 seconds or less.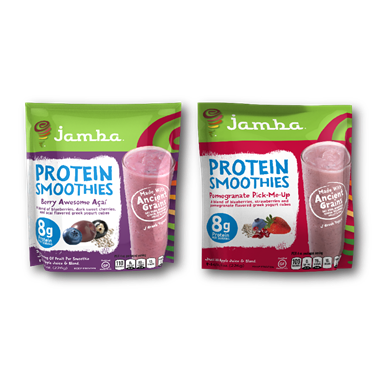 Each package provides two, eight-ounce servings when prepared as directed. Suggested retail price ranges from $3.99 – $4.99 per bag.
"Plenty of research exists today that suggests a direct benefit to increased protein intake and its impact on health, and consumers clearly have interest as evidenced by the number of new protein-enhanced snacks on the market," said Dan Hammer, senior vice president and general manager of frozen division at Inventure Foods, Inc. "However, we found that while some snacks delivered on nutrient levels, many fell well short on taste. Our Jamba Protein Smoothies offer a rare combination of taste, nutritional value and convenience at once, and we're confident that healthy eaters will appreciate our effort to ensure that they don't have to sacrifice taste to get great nutrition in a frozen smoothie."
Pomegranate features a blend of blueberries, strawberries and pomegranate flavored non-fat Greek yogurt cubes. Acai Berry offers a delicious blend of blueberries, dark sweet cherries and acai flavored non-fat Greek yogurt cubes.
Each eight-ounce package contains frozen fruit and yogurt cubes that, when blended with one cup of apple juice, make two, eight-ounce servings. The gluten-free smoothies contain only 110 calories per serving and provide a full-serving of vitamin C.
In the eight years since its licensed partnership with Jamba Juice first began, Inventure Foods has introduced a number of legendary Jamba recipes as ready-to-blend smoothie kits found in the frozen fruit aisle of the store. The list includes best-selling varieties such as Strawberries Wild, Razzmatazz, Caribbean Passion, Orange Dream Machine and Mango-a-go-go.
About Inventure Foods, Inc.
With manufacturing facilities in Arizona, Indiana, Washington, Oregon and Georgia, Inventure Foods, Inc. (Nasdaq: SNAK) is a marketer and manufacturer of specialty food brands in better-for-you and indulgent categories under a variety of Company owned and licensed brand names, including Boulder Canyon Natural FoodsTM, Jamba®, Seattle's Best Coffee®, Rader Farms®, T.G.I. Friday's®, Nathan's Famous®, Vidalia Brands®, Poore Brothers®, Tato Skins®, Willamette Valley Fruit CompanyTM, Fresh FrozenTM and Bob's Texas Style®. For further information about Inventure Foods, please visit www.inventurefoods.com.
About Jamba Juice Company
Founded in 1990, Jamba, Inc. (NASDAQ:JMBA) is a leading restaurant retailer of better-for-you, specialty beverage and food offerings, which include great tasting, whole fruit smoothies, fresh squeezed juices and juice blends, hot teas, and a variety of food items including hot oatmeal, breakfast wraps, sandwiches, Artisan Flatbreads™, baked goods, and snacks. As of October 1 2014, there were 862 Jamba Juice store locations globally. Jamba is a proud sponsor of "Team Up for a Healthy America" in the fight against childhood obesity and encourages fans to join the Team Up community of celebrities, athletes, and other leaders committed to getting kids active and involved at www.myhealthpledge.com. Fans of Jamba Juice can find out more about Jamba Juice's locations as well as specific offerings and promotions by visiting the Jamba Juice website at www.JambaJuice.com or by contacting Jamba's Guest Services team at 1-866-4R-FRUIT (473-7848).