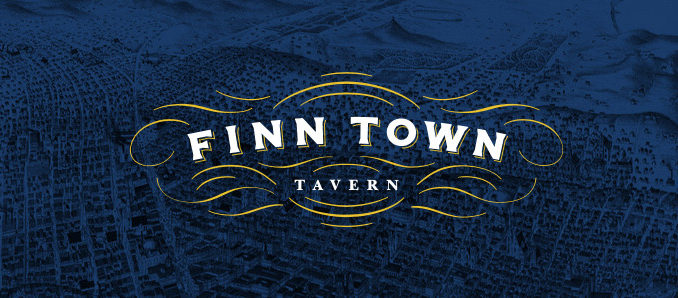 FINN TOWN STRIKES GOLD WITH AN ONLY IN SAN FRANCISCO APPROACH
Chef Ryan Scott Opens Unique "Tavern with a Twist" in the Castro

On Friday, December 2nd, Chef Ryan Scott's highly anticipated Finn Town opens in San Francisco's ever evolving Castro district. Taking inspiration from the Gold Rush era when the Castro was known as Finn Town, the Emmy award winning TV host, Top Chef alum, KGO radio host and cookbook author (One to Five, Time Inc. Books 2016) will combine contemporary comfort fare with a vibrant cocktail scene.  
The design of Finn Town showcases two distinct bars serving the full menu with a main dining room that features plush booths and several colorful and comfortable seating options. Located on Market between Noe and Sanchez, the "Tavern with a Twist" will appeal not only to diverse area denizens and adventurous diners from across town, but to culinary tourists hungry for an "only in San Francisco" drinking and dining experience at dinner nightly and both Saturday and Sunday brunch.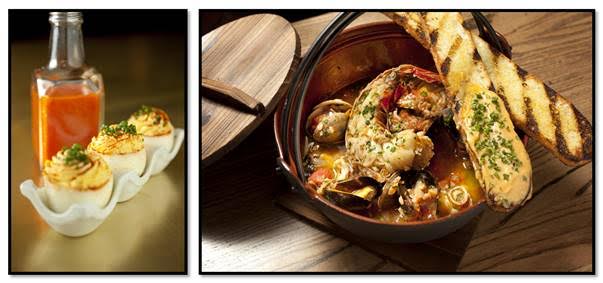 "We wanted to create an upbeat neighborhood atmosphere that visually harkens back to the 1850s when the food was unpretentious and the drinks were strong and satisfying," Chef Scott says. "Everything at Finn Town will be made in-house from the Fresno hot sauce on our deviled eggs to the English muffins at brunch and of course, every dessert and a daily bread. In addition to full bar offerings and creative cocktails, we will have wine, beer and cider plus three signature house cocktails on tap so your thirst is quenched quickly."
Chef de Cuisine Jason Raffin will work with Scott on a range of approachable, yet innovative fare. Starters and "Fin Bar" offerings range from Beet Blini with Caviar & Cured Salmon with white sturgeon caviar, house made aquavit-cured salmon and whipped crème fraîche and Oysters Cured with St. George Gin to shareable signature Deviled Eggs with housemade hot sauce, chives and paprika. Hearty mains such as the Finn Burger with "Jason's Secret Sauce" on a house brioche bun and Lobster Cioppino for Two are joined by a host of veggie options such as a seasonal Vegetable Crudité with bagna càuda and white bean hummus and Grilled Carrots with bûcheron and Californian chimichurri. A rotating list of nightly specials are sure to gain cult followings including Thursday's Friendsgiving featuring herb roasted turkey, pan-seared confit stuffing, cranberry sauce and house popover and Saturday's Cornflake Crusted Fried Chicken Sandwich with spiced aioli, house pickles and fries. Brunch favorites are given interesting twists like the Fried Egg Sandwich with rosemary pepper bacon, white cheddar and triple egg aioli on an English muffin, French Toast Fingers with brown butter cream cheese frosting and huckleberry syrup and Pot Roast Hash with sunny side up eggs, potato cake, and cracked wheat toast. With pricing under $25 for all entrees and a menu designed to be highly portable at dinner, Scott and his business partner Castro resident Rick Hamer hope to encourage customers to become regulars, for eat in and takeout.
A key Finn Town twist that celebrates its historic tavern roots are cocktails named after people who lived, worked or did something fabulous in San Francisco. Created by 2016 San Francisco Chronicle Bar Star Anthony Parks of Fifty Fifty Cocktail Co. (Mourad, Dorian, Palm House) the Signature menu offers riffs on classic libations such as Call of the Wild with gin or vodka, French vermouth, lemon, cucumber and absinthe named for author Jack London; San Francisco native Carol Channing's Showgirl with vodka, aloe vera, strawberry soda and rosemary; the  former Noe Valley resident Janis Joplin inspired Ball and Chain with bourbon, Averna and raw honey; while the Milkman with vodka, lychee milk, lime and ginger honors the legacy of Harvey Milk.
With two bars, it's not surprising that Finn Town offers two cocktail lists. The sure to be talked about "Down Low" List is a by-request-only feature given the slightly naughty names. Fire in the Hole with housemade Fireball and hard apple cider and Scissor Sisters with gin, vodka, strawberry-elderflower, coconut cream and lemon are among its standouts. Brunch-goers will enjoy a Not So Green Day hangover cure and Pear Shaped World, a breakfast punch inspired by singer-songwriter Chris Isaak. "We had such a blast experimenting with off-the-beaten-path ingredients," says Parks. "Each creation is visually striking, well balanced and downright delicious with a decided twist, just like the food and ambiance."
The city's sweetest darling, Cheryl Storms (Pinkie's, Citizen's Band, Bacar) is working in tandem with Scott as Consulting Pastry Chef on all pastries and breads including parker house rolls, buttermilk biscuits, brioche hamburger buns, brunch Bear Claws, an intriguing "Death by Chocolate" layered cake and more. Service will be overseen by General Manager Michael Ploetz, a recent Castro transplant with local family ties, who has worked with José Andrés' Think Food Group, celebrity Chef Michael Voltaggio and most recently headed up the food and beverage department at the iconic Peninsula Hotel in Beverly Hills. Guest Relations Manager Sean Niles (Bix, Spruce, Tosca Café) will run the door and head monthly special events including award-season viewing parties and "Twisted Holidays," as well as events benefitting area non-profits.
Finn Town is located at 2251 Market Street between Noe and Sanchez streets in San Francisco, just steps from the iconic street cars and MUNI (Castro and Church stations). The tavern will be open Monday – Wednesday from 5 p.m. – 12:30 a.m.; Thursday & Friday from 5 p.m. – 1:30 a.m.; Saturday from 10 a.m. – 1:30 a.m.; Sunday from 10 a.m. – 12:30 a.m.
Private and semi-private parties are welcome and takeout is available. Dinner prices range from $7-18 for Starters and Raw Bar; $16-21 per person for Main Dishes and $6-11 for Desserts. Signature Cocktails are $12 and Brunch sweets are offered at $6-10 with savory Brunch items in the $8-18 range. For more information and to make reservations online, please visit www.finntownsf.com and follow Finn Town on Facebook, Instagram and Twitter @finntownsf.