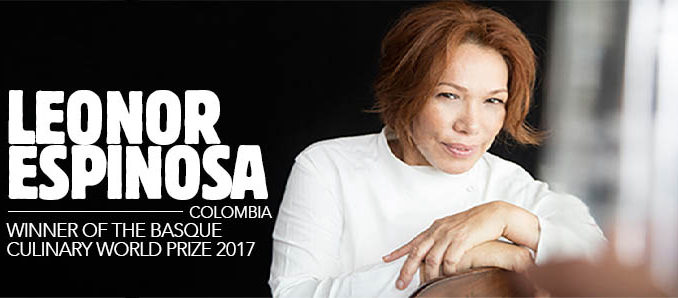 The prize, which is worth €100,000, will support the Centro Integral de Gastronomía (a Centre for Gastronomy) in el Chocó, Colombia.
The Colombian chef Leonor Espinosa was granted the Basque Culinary World Prize 2017 for her Funleo Project – a foundation which helps indigenous and afro-Colombian communities to identify, defend and promote gastronomic traditions.
The winner was selected by a panel presided over by the chef Joan Roca and made up of some of the most influential chefs in the world as well as international experts in other fields.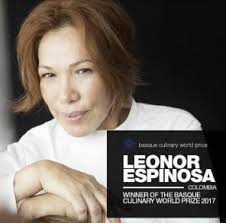 Today the Colombian Chef Leonor Espinosa was awarded the Basque Culinary World Prize 2017, during a prizegiving gala at Tabakalera, the international centre for contemporary culture in San Sebastián.
The prize was created by the Basque Culinary Center and the Gobierno Vasco (Basque Government) within the framework of the Euskadi-Basque Country strategy. It honours chefs who have a positive impact on society as a whole, showing how gastronomy can be a driver for change in spheres such as innovation, education, the environment, social and economic development and health.
In the presence of the authorities and distinguished figures, the Basque Government's Councillor for Economic Development and Infrastructure, Arantxa Tapia, awarded the Colombian chef Leonor Espinosa with the prize for her work within Funleo, a "Gastronomy for Development" foundation that aims to restore and promote the ancestral knowledge of communities, especially indigenous and afro-Colombian populations. It does this by promoting rural growth through 'food sovereignty,' creating sales channels with small producers and strengthening education, nutrition, entrepreneurship and tourism in ethnic localities
The prize fund of €100,000 cash will go to support Leonor Espinosa's Funleo projects, such as the opening of a Centro Integral de Gastronomía (Centre for Gastronomy) in el Choco. This will provide gastronomic training as an employment as an alternative to drug trafficking, and will raise awareness of gastronomic diversity within the country, so that its communities may independently use their biological and cultural heritage as forms of social and economic development.
Leonor Espinosa was selected as winner of the Basque Culinary World Prize 2017 from ten finalists, by a jury led by Joan Roca of El Celler de Can Roca restaurant (Spain) and composed of some of the world's most influential chefs, such as Gastón Acurio (Peru), Michel Bras (France), Dominique Crenn (USA), Yoshihiro Narisawa (Japan) and Enrique Olvera (Mexico). The jury also included experts such as Laura Esquivel, author of the best-seller Like Water for Chocolate, the Basque writer Kirmen Uribe, Cristina Franchini, expert in international law, the rural sociologist Matthew Goldfarb and María Fernanda di Giacobbe, winner of the Basque Culinary World Prize 2016.
During the prize-giving ceremony, the prize-winner, Leonor Espinosa, gave a moving speech in which she said.
"The prize represents a dream come true for communities, which have been fighting for years to gain recognition through the value of their ancestry and their contribution to the national cultural identity. Such recognition is a way of breaking the silence generated by armed conflict, injustice and exclusion. And for the country, in the midst of this reconciliation process, it confirms the importance of using gastronomical processes as a key tool for the economic development of those populations that truly hold the key to generating wellbeing through heritage".
Arantxa Tapia, the councillor for Economic Development and Infrastructure, said;
"One of the areas where we want Euskadi to continue as an international benchmark is gastronomy, because we firmly believe in its relevance in this sector. Gastronomy can be understood as another link in the food chain, and as a change factor that offers a different perspective to the conventional outlook, and seeks solutions to social problems which, after all, affect all of us."
Bixente Atxa, Dean of Mondragon University and President of the Board of the Basque Culinary Center, said:
"The rise of the gastronomy sector over the last few years has put chefs in the spotlight. We are certain that this sector can improve its standing when its stakeholders contribute to addressing relevant social problems
The mission of the Basque Culinary Center is to develop the economic and social potential of gastronomy. This is why we established the Basque Culinary World Prize in conjunction with the local Government, as an award for chefs who undertake initiatives that have an impact on society, especially those who show how gastronomy can be a force for change".
Background:
The Basque Culinary World Prize was launched in 2016 as an initiative that would bring to life examples of the ways in which gastronomy can make an impact on society, by showcasing the work of entrepreneurial men and women who strive for excellence and who are, most importantly, strongly committed to their societies.
Over 110 participants from around 30 different countries were nominated through the Basque Culinary World Prize 2017 website. For two months, professionals and institutions from the industry nominated chefs from all around the world.
The 10 finalists were chosen by a technical committee led by chef Elena Arzak from Arzak restaurant in the Basque Country. They included:
José Andrés (USA), Ebru Baybara Demir (Turkey), Leonor Espinosa (Colombia), Dan Giusti (USA), David Hertz (USA), Anthony Myint (USA), Daniel Patterson & Roy Choi (USA), Melinda McRostie (Australia/Greece), Niko Romito (Italy), Ricardo Muñoz Zurita (Mexico).
On 18 July 2017, the jury of the Basque Culinary World Prize met in Mexico, and then made the international announcement of their final decision.
Basque Country Strategy
The prize was created and granted by the Basque Government in collaboration with the Basque Culinary Center, and it falls under the Basque Country integral strategy. This national brand has strengths and singularities, positioning Euskadi as a global actor, mark of excellence, a model for quality of life and social cohesion, and as an innovative and competitive region. It aims to link the image of Euskadi to the shared values of Basque society, such as a strong work ethic, commitment, drive to succeed, striving for change and equal opportunities for men and women, and to make these values our calling card at an international level.
Notes to editors
Leonor Espinosa proudly promotes Colombian cuisine in renowned restaurants such as Leo and Misia. Earlier this year she won the Latin American Best Female Chef Award awarded by Latin America's 50 Best Restaurants restauranteleo.com
Leonor will donate the €100,000 won at the Basque Culinary World Prize to foundation Funleo, an institution created in 2008 with "Gastronomy for Development" as their motto. The foundation seeks to support communities (namely Indigenous and African-Colombian ones) to identify, boost and claim back their traditional cuisines as a way of driving social and economic change. www.funleo.org
Photos for publication are available here:
Portrait photo of Leonor Espinosa:
https://www.dropbox.com/sh/noy600ieee44kzu/AACc_0-FCsaUGp0jdXb8Rpvza?dl=0
Photos of the 2017 Basque Culinary World Prize Gala:
https://www.dropbox.com/sh/drvrhrjdeg7hce7/AACiZagaTTFyBgBY4MQLMRsXa?dl=0
In 2016 the Prize was awarded to Venezuelan chef María Fernanda Di Giacobbe for her Cacao de Origen project, a network involving education, entrepreneurship, research and development around cocoa as a source of identity, culture and economic wealth in Venezuela. Through this network, the Chef has brought opportunities to financially vulnerable women, building capacities and empowering them. Now these women have turned into micro-entrepreneurs in the chocolate industry.
BCWP 2017's technical committee was made up of Elena Arzak (Arzak Restaurant, Basque Country), Xavier Medina (Universitat Oberta de Cataluña, Spain); Melina Shanon Dipietro (Mad Institute, Denmark), Jorge Ruiz Carrascal (Copenhagen University, Denmark), Marta Miguel Castro (Gastronomic Sciences Research Institute, Spain) and Joxe Mari Aizega, (General Manager, Basque Culinary Centre).
The Basque Culinary World Prize is awarded by the Basque Government and is part of Euskadi Basque Country integrated strategy. It is a distinctive national landmark that builds on Basque assets and special characteristics, positioned as a beacon of excellence for good quality of life, social cohesion, and an innovative and competitive region.
The Basque Culinary Centre academic institution is a global pioneer in the field of culinary university education and talent promotion. It is devoted to education, research, innovation and entrepreneurship. Since its 2009 inauguration in San Sebastián, it has focused on the development of a multi-disciplinary space that would contribute to professionalising the industry.
For more information please visit www.basqueculinaryworldprize.co
The Ten Finalists for the Basque Culinary World Prize 2017 were:
Leonor Espinosa: Colombia
One of Colombia's most celebrated chefs and a key figure in its recent gastronomic renaissance, Leonor Espinosa is known for her passion for her country's unique biodiversity (which boasts over 500,000 native species and plants in ecosystems in mountain and sea, desert and rainforest), its rich cultural heritage and its indigenous people – all of which fuel her work as chef and activist. Trained as an economist and artist, Espinosa first made her name with a fusion of modern and ancient Colombian cooking at her restaurant, Leo Cocina y Cava, which – a decade later – is widely regarded as one of the best restaurants in Latin America. Working with her daughter, who acts as sommelier, she works with little-known, wild ingredients supplied by local, indigenous producers – transforming them into haute cuisine with her famously imaginative, creative style.
This is only part of her work however. Espinosa is also the founder of the Funleo Foundation, whose slogan is 'food for development' – a foundation that aims to identify, reclaim and promote the culinary traditions of Colombia while highlighting sustainable practices and local food production. In practice, she supports local ethnic communities, particularly Afro-Colombian peoples, with programs to help them to revive and preserve their ancestral knowledge and ingredients (many of which have become forgotten or disused), nurturing sustainable agricultural entrepreneurship, and helping them find routes to market. She is clear in her view that if local economies improve, the violence will diminish; and has been instrumental in opening a Comprehensive Gastronomy Centre in Golfo de Tribugá as an alternative framework to drug trafficking. Through her work, she urges Colombia take responsibility for transforming their cultural heritage into tools for socio-economic development.
Alongside her famous flagship restaurant, Espinosa has more recently opened a small, casual diner, Misia, which showcases the cuisine of the Caribbean coast of Colombia, alongside popular cuisine and street food favourites. Here, she showcases her nation's rich biodiversity – particularly its coastal region – by continually rotating the fare of different local producers; the ultimate aim being to encourage the spread agricultural wealth among the many smaller producers, instead of the larger few. For Espinosa, food is a catalyst for regeneration and reconciliation in every sense; culinary, political and social – as well as a way to build a whole new cultural identity which both cultivates dignity and peace – a movement which she believes can benefit not only her country, but Latin America as a whole.
Niko Romito: Italy
Self-taught chef Niko Romito (from Abruzzo, Italy) launched his restaurant, Reale, in 2000 with his sister Cristiana. In just seven years they earned 3-Michelin stars. In 2011, Niko Romito opened a professional cooking school in Abruzzo run in partnership with Slow Food – a global movement linking the pleasure of food with a commitment to community and the environment, inculcating the next generation of chefs in his passion for regional produce.
In collaboration with Sapienza University of Rome, Niko Romito has devised a system that enables hospitals to serve healthier and tastier food, which in turn improves the physical and emotional wellbeing of its patients (45% of all hospital food ends up being thrown away in Italy). Niko Romito has redesigned the hospital food chain via the Inteligencia Nutricional project, using techniques and concepts developed at his Michelin-starred restaurant Reale to improve the sensory quality of the meals and to maximise the nutritional value of its ingredients – and all within hospital budgets.
Anthony Myint: United States
'Rather than contributing to the problem of climate change, food should be part of the solution.' So say chef Anthony Myint and writer Karen Leibowitz, who have presented a conscious approach to food by sharing information and tools that create a positive impact on the environment. But, it wasn't enough just to talk about it. Myint and Leibowitz also founded ZeroFoodprint, an organisation that works with restaurateurs to try to completely eliminate their carbon footprint. As owners of restaurants including The Perennial, they set up The Perennial Farming Initiative to provide funding for programs in 'progressive agriculture' and to encourage changes in the industry, from farm to fork.
Anthony Myint is the son of Chinese parents who emigrated from Burma. In 2003, he embarked on a trip around the world, eating his way across 31 countries and six continents. In 2004, he moved to San Francisco where he worked as a line cook. In 2010 he opened a charitable fine-dining establishment, Commonwealth Restaurant, which was name as a James Beard Semifinalist in 2011 for Best New Restaurant.
Dan Giusti: United States
After leaving René Redzepi's kitchens (he was sous-chef at Noma), Dan Giusti recently set up Brigaid, an initiative that helps schools rethink the design and functionality of their kitchens. The know-how of talented chefs is brought into school kitchens to generate real, substantial changes. They work to serve 'real food' and to rebuild basic yet forgotten practices like taking time over meals.
Daniel Patterson and Roy Choi: United States
Daniel Patterson's extensive experience in fine dining merges with Roy Choi's expertise in street-food to create LocoL, a joint restaurant chain project in the USA committed to changing the fast-food concept. Far from being some fantasy around healthy eating, LocoL is a very real project that benefits all involved. The initiative supports a "fast-food revolution" and changes the stigmatized link between race, food and poverty to show that we can eat better for less.
David Hertz: Brazil
A distinguished advocate of social gastronomy in Latin America, David Hertz set up Gastromotiva in São Paulo to provide free culinary training to young people from poor areas, with a view to finding them employment in the catering industry. He has built a community support network that includes workshops for children and cooking courses in prisons. The project also now operates in Rio de Janeiro, Salvador de Bahia and Mexico City, including a soup kitchen – Refettorio Gastromotiva – created at the Olympics in Rio in collaboration with Massimo Bottura´s food waste project: Food for Soul.
Ebru Baybara Demir: Turkey
In the Harran region in the south-east Turkey, where refugee camps are home to some 14,000 Syrian refugees, Ebru Baybara Demir leads the Harran Gastronomy School Project, an initiative to improve the employment prospects of economically vulnerable Turkish and Syrian women through culinary training. The project also builds bridges between Turkish and Syrian culture, providing refugees with training in gastronomic tourism that draws on the region's historic and artistic heritage.
José Andrés: United States
Time magazine cites José Andrés as one of the most influential men in the world. For Andrés, it's not enough to have a vast chain of successful restaurants or to be a media figure – it's about generating lasting change in multiple aspects of the food industry. Based in Washington, the Spanish chef has entered politics to promote immigration and labour reforms, as well as 'a smarter approach to food policy.' He also uses his profile to raise funds for projects, which use cooking as a driver of social change. A Citizenship Ambassador for the Obama Administration and an ambassador for the Global Alliance for Clean Cookstoves launched by Hillary Clinton, he also runs his own initiatives including World Central Kitchen, plus education and training programmes in countries such as Haiti.
Melinda McRostie: Australia /Greece
On the northern shore of the Greek island of Lesbos, cook Melinda McRostie provided aid to refugees from her harbour side restaurant during the height of the largest refugee crisis since World War II. With the help of local humanitarians and a growing cast of volunteers from around the world, she—and later on, Starfish, the Foundation she created to support her work—offered food, water, clothing, medical care, information and emotional support to more than 200,000 refugees. Starfish continues to support unaccompanied children and vulnerable families who are detained on the island with food aid and material assistance.
Ricardo Muñoz Zurita: Mexico
Recognised by Time magazine as a 'prophet and preserver of Mexican culinary tradition,' Ricardo Muñoz Zurita is a pro-biodiversity activist who believes in promoting the country's culinary heritage. He is renowned amongst his peers as one of the main catalysts behind the boom in Mexican cuisine both at home and abroad. He is the author of the emblematic Encyclopedic Dictionary of Mexican Gastronomy, and is also a well-known advocate of local produce.