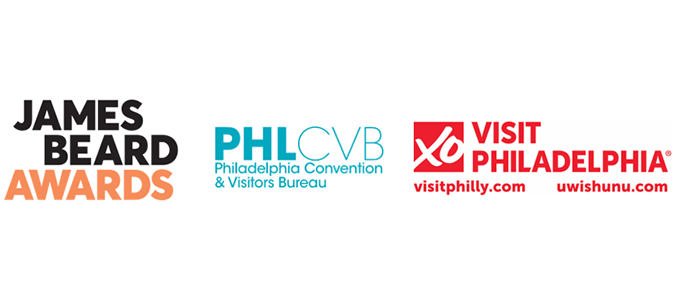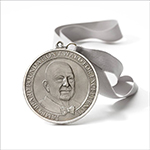 The James Beard Foundation and VISIT PHILADELPHIA® announced today that together, the organizations will reveal the 2018 James Beard Foundation Awards nominees at a live press conference in Philadelphia on Wednesday, March 14, 2018. Meryl Levitz, president and CEO of VISIT PHILADELPHIA® and Clare Reichenbach, CEO of the James Beard Foundation will co-host the press conference and corresponding breakfast at Parc, James Beard Foundation Award winner Stephen Starr's popular French bistro on Rittenhouse Square. Nominees in more than 50 categories in the Foundation's awards programs, including Restaurant and Chef, Restaurant Design, and Media will be announced. The event will take place at 9:30 A.M. EST and will be streamed live online (details on the JBF website) and live-Tweeted via the James Beard Foundation Twitter feed at twitter.com/beardfoundation.
"Philadelphia's culinary scene continues to transform and create buzz-worthy experiences for its city and visitors," said Anne Quatrano, James Beard Award Winner and Chair of the Awards Restaurant and Chef Committee. "After several notable wins at the 2017 Awards, the Foundation looks forward to celebrating the influential community of restaurants and chefs in Philadelphia this year, as we announce our latest batch of nominees."
In addition to the press conference and breakfast, a private benefit dinner will take place on Tuesday, March 13, co-hosted by Executive Chef and James Beard Award Winner Jeff Michaud and celebrity restaurateur Michael Schulson at Osteria. Guests can expect a unique, collaborative, multi-course dining experience with wine and specialty cocktails.
"Philadelphia couldn't be prouder to host the nominee announcement for this year's James Beard Foundation Awards," said Meryl Levitz, president and CEO of VISIT PHILADELPHIA®. "As home base for three of last year's winners, Philly is hitting its stride as a major food destination. The region is blessed with proximity to rich farmland, well-established and new talent and explorable neighborhood corridors you can eat your way through. We have always believed in the mission of the James Beard Foundation of celebrating chefs and America's food culture. We believe eating well can transform communities."
Semifinalists for the Foundation's Restaurant and Chef Awards are selected from 23,000 online entries, a process that's overseen by a committee of industry professionals. After the first round of voting by judges, committee members, and previous winners, the semifinalists, which will be announced on Thursday, February 15, are then narrowed down to a final list of nominees. The Restaurant and Chef nominees will be announced from Parc in Philadelphia on Wednesday, March 14, along with finalists in the Restaurant Design and Media Awards categories.
The James Beard Foundation Awards Gala will be held at the Lyric Opera of Chicago on Monday, May 7, 2018. During the event, which is open to the public, awards for the Restaurant and Chef and Restaurant Design categories will be handed out, along with special achievement awards Humanitarian of the Year, Lifetime Achievement, Design Icon, Who's Who of Food and Beverage in America, and America's Classics. A gala reception will immediately follow, featuring top chefs and beverage professionals from across the country.
On Friday, April 27, 2018, the James Beard Media Awards, an exclusive event honoring the nation's top cookbook authors, culinary broadcast producers and hosts, and food journalists, will take place at Pier Sixty at Chelsea Piers in New York City.
Established in 1990, the James Beard Awards recognize culinary professionals for excellence and achievement in their fields and furthers the Foundation's mission to celebrate, nurture, and honor chefs and other leaders making America's food culture more delicious, diverse, and sustainable for everyone. Each award category has an individual committee made up of industry professionals who volunteer their time to oversee the policies, procedures, and selection of judges for their respective Awards program. All JBF Award winners receive a certificate and a medallion engraved with the James Beard Foundation Awards insignia. There are no cash prizes.
The 2018 James Beard Foundation Awards are proudly hosted by Choose Chicago and the Illinois Restaurant Association and presented in association with Chicago O'Hare and Midway International Airports as well as the following partners: Premier Sponsors: All-Clad Metalcrafters, American Airlines, HMSHost, Lavazza, S.Pellegrino® Sparkling Natural Mineral Water, TABASCO® Sauce; Supporting Sponsors: Breville®, Hyatt, Robert Mondavi Winery, Skuna Bay Salmon, Taylor Precision Products, Valrhona, Windstar Cruises; Gala Reception Sponsors: Dogfish Head Craft Brewery, Ecolab, Front of the House®, Kendall College; with additional support from: Chefwear, Emmi Roth, Loacker and VerTerra Dinnerware.
About the James Beard Foundation (JBF)
Founded in 1986, the James Beard Foundation celebrates, nurtures, and honors chefs and other leaders making America's food culture more delicious, diverse, and sustainable for everyone. A cookbook author and teacher with an encyclopedic knowledge about food, the late James Beard was a champion of American cuisine. He helped educate and mentor generations of professional chefs and food enthusiasts, instilling in them the value of wholesome, healthful, and delicious food. Today JBF continues in the same spirit by administering a number of diverse programs that include educational initiatives, food industry awards, scholarships for culinary students, publications, chef advocacy training, and thought-leader convening. The Foundation also maintains the historic James Beard House in New York City's Greenwich Village as a "performance space" for visiting chefs. For more information, please visit jamesbeard.org. Get food news, recipes, and more at the James Beard Foundation's blog, or subscribe to the free digital newsletter Beard Bites. Follow @beardfoundation on Facebook, Twitter, Instagram, Pinterest, and Snapchat. Watch the James Beard House Kitchen Cam, James Beard Awards, and more on the Foundation's Livestream channel. Find more JBF-related video on the Foundation's YouTube channels.
About Visit Philadelphia®
VISIT PHILADELPHIA® is our name and our mission. As the region's official tourism marketing agency, we build Greater Philadelphia's image, drive visitation and boost the economy.
On Greater Philadelphia's official visitor website and blog, visitphilly.com and uwishunu.com, visitors can explore things to do, upcoming events, themed itineraries and hotel packages. Compelling photography and videos, interactive maps and detailed visitor information make the sites effective trip-planning tools. Along with Visit Philly social media channels, the online platforms communicate directly with consumers. Travelers can also call and stop into the Independence Visitor Center for additional information and tickets.
Note to Editors: For high-resolution photos of Greater Philadelphia, visit the photo gallery of visitphilly.com/pressroom
About Philadelphia Convention & Visitors Bureau
The Philadelphia Convention & Visitors Bureau (PHLCVB), a private non-profit, membership corporation, is the official tourism promotion agency for the City of Philadelphia globally, and the primary sales and marketing agency for the Pennsylvania Convention Center. The PHLCVB is an economic engine for the city – creating jobs and fueling economic growth by encouraging overseas visitation and by bringing ethnically diverse regional, national and international meetings, conventions and sporting events to Philadelphia.