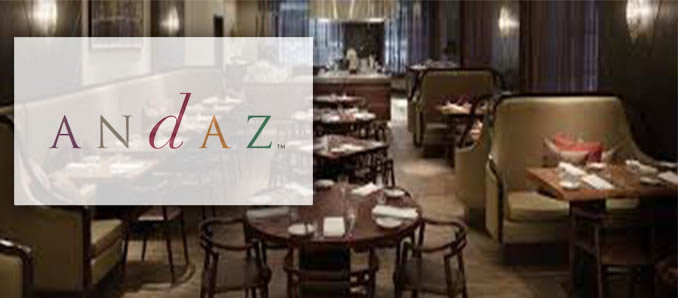 Andaz Wall Street, located in the heart of Lower Manhattan, is delighted to announce the opening of their new signature restaurant, Andaz Kitchen & Bar, helmed by the hotel's new Italian-born Executive Chef Pietro Consorti. Inspired by the diverse cultural melting pot of New York City, Chef Pietro's Italian roots and the culinary team's diverse cultural backgrounds, Andaz Kitchen & Bar offers a fusion of international cuisines with authentic global flavors and ingredients. The new Andaz Kitchen & Bar is the first stage of a multi-phase renovation the hotel is kicking off this year.
The innovative, culturally diverse concept of Andaz Kitchen & Bar has been introduced by the Chef Consorti, and was inspired by the varied cultures, ingredients and cooking techniques he picked up throughout the course of his global culinary career. Chef Consorti's love for cooking began in his hometown Prato, in Tuscany, Italy where he grew up cooking with his grandmother. After working in neighborhood restaurants, he moved to Milan where he gained further experience at fine dining restaurant Il Ristorante Trussardi alla Scala under Michelin-Starred Chef Andrea Berton. He also worked on the opening of the Michelin-Starred restaurant VUN at Park Hyatt Milan, where he spent eight years as Executive Sous Chef. Chef Consorti's culinary career most recently took him to the Hyatt Regency Louisville in Kentucky where he was introduced to a new set of Southern flavors and cooking techniques. After joining Andaz Wall Street as Executive Chef, Consorti spent time getting to know the ethnically diverse culinary team and was inspired by their stories and the cuisine they proudly cooked that was representative of their home countries. He felt his team was a true representation of the melting pot of cultures that characterize New York City and taking this into consideration, along with his own diverse culinary background, the concept of Andaz Kitchen & Bar was born.
Andaz Kitchen & Bar's new menu features a mix of traditional Italian, Caribbean, Asian and American dishes along with daily international specials which rotate with cuisine from the home countries of the staff including Jamaica, Philippines, Italy and Vietnam, among others. Highlights from the lunch menu include soups and salads such as the Tuscan Vegetable Soup, Caribbean Chicken Soup and the Puntarelle Salad, a Roman specialty green salad made with hearth chicory, burrata, extra virgin olive oil, lemon and salted anchovies. There are handmade pastas such as the Ravioli with ricotta, anchovies, red pepper, parsley and Parmigiano Reggiano; Spaghetti Chitarra with cacio e pepe; and the Kentucky-inspired Bourbon Mash Risotto with roasted corn, barley, malt, smoked blue cheese, ash and saba. Diners can also choose from a variety of sandwiches and large plates such as the Jamaican Braised Oxtail served with butter beans casserole and white rice; the Philippine Chicken Adobo served with bok choy and garlic fried rice; Red Snapper served with panzanella (Italian bread salad), green olives and guazzetto; and the Bacon Burger made with grass fed beef and served with white cheddar, lettuce, tomato, red onion and sweet pepper aioli.
The dinner menu features many of the same dishes as lunch but with an additional selection of sharable internationally inspired small dishes such as the Lacquered Spare Ribs with kung pao glaze, crushed peanuts, scallions and cilantro; Stuffed Yellow Plantains with beef peccadillo and queso fresco; Prosciutto Crudo & Tomatoes; Jerked Pork Slider with house made jerked pork and pickled chayote; and Vietnamese Mussels in a herbed spicy broth. To end the meal with something sweet, both the lunch and dinner menus offer a selection of fresh desserts including a Flan de Leche, New York Cheesecake and Fresh Berry Tart.
"Andaz Kitchen & Bar embodies the cultural melting pot of New York, featuring authentic ingredients from a variety of international cuisines and cultures," said Chef Consorti. "Diners will taste a dish and know they are getting a true representation of that cuisine. I will not compromise on flavor and ingredients based on convenience – everything I put into my dishes is sourced directly from the country it is from. I believe in simple yet flavorful dishes that respect tradition and are infused with love. I am passionate about what I do and I look forward to sharing that with those who come to dine at the restaurant."
About Andaz Wall Street
Experience the rebirth of Lower Manhattan at the first hotel situated on iconic Wall Street. Andaz is devoted to providing attentive, uncomplicated service and indulgent amenities. The David Rockwell-designed property features 253 guestrooms starting at a generous 345 square feet, making them some of the largest hotel rooms in New York City. Andaz offers a variety of on-site amenities, including over 10,000 square feet of event space, complimentary Wi-Fi and mini bars with non-alcoholic beverages and snacks, a 24-hour gym, and The SPA. Patrons can enjoy authentic international cuisine at the new Andaz Kitchen & Bar. For additional information about Andaz Wall Street please visit www.andazwallstreet.com.
About Andaz
Global in scale while local in perspective, Andaz hotels weave the sights, sounds and tastes of their surroundings into each property for an experience that truly immerses guests in the eclectic culture of each local destination. Through personalized, unscripted service, Andaz creates a barrier-free environment where guests are encouraged to explore their personal sense of style and become inspired by the spirit of the culture around them. Sixteen Andaz hotels are currently open: Andaz 5th Avenue and Andaz Wall Street in New York, Andaz San Diego, Andaz West Hollywood, Andaz Napa, Andaz Scottsdale Resort and Spa, Andaz Savannah, Andaz Maui at Wailea, Andaz Ottawa Byward Market, Andaz Mayakoba Resort Riviera Maya, Andaz Peninsula Papagayo in Costa Rica, Andaz London Liverpool Street, Andaz Amsterdam Prinsengracht, Andaz Delhi, Andaz Xintiandi in Shanghai, and Andaz Tokyo Toranomon Hills. For more information, please visit andaz.com. Follow @Andaz on Facebook, Twitter and Instagram, and tag photos with #WhenInAndaz.