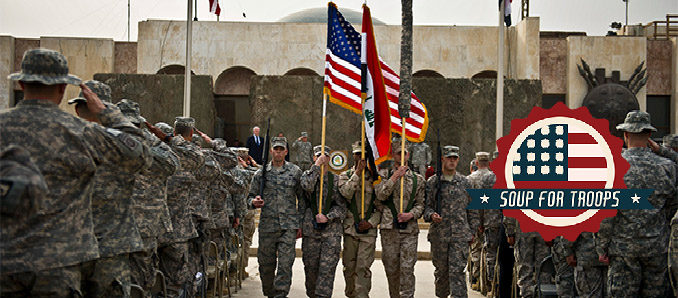 Gallant Brands Honors Military with "Soup for All" Donating Soups Regularly to Veterans 
Debuts July 4th in Nutley, New Jersey Non-Profit Model Aims to go National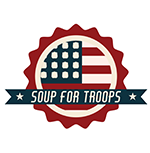 Gallant Brands, Inc., parent company of The Original Soupman, LLC, announces a patriotic non-profit program with a mission to send free soup to veterans and their families. "Soup For Troops" is a nonprofit 501(c)(3) foundation, sponsored by Gallant Brands, that will further Soupman's effort in providing "Soupman Soup for AllTM ".   
Soup For Troops (Soupfortroops.org) will donate soup as part of their ongoing patriotic mission to honor United States veterans, some of whom continue to struggle when they return home. 
Alarming statistics show that veterans suffer from high rates of Post-Traumatic Stress Disorder (PTSD), with about one in 10 Afghanistan veterans and as many as one in five Iraq War veterans suffering from the debilitating condition. * 
Additionally, injury and difficulty finding jobs are resulting in increased depression and financial instability for a growing number of veterans. Public Health and Nutrition reports 27% of Iraq and Afghanistan veterans have struggled to put food on the table. **
The debut of the Soup For Troops nonprofit program will kick off on July 4th in Nutley, New Jersey, a town renowned for its robust veteran's programs. About 3,000 veterans and/or their families reside in this community. The relationship with Nutley will serve as a scalable model to support veterans through local partnerships on a national level. As part of the program, soup will be delivered to a central location in Nutley, New Jersey where veterans may pick them up. Veterans and their families can now enjoy Original Soupman Tetra Recart ® packaged soups, which come in specially recycled eco-friendly shelf-stable boxes designed to keep soups fresh while preserving taste. Nutley, New Jersey is the only town in the state to have its own Department of Military Affairs, called the Nutley Department of Military Veterans Affairs Bureau and directed by Courtney Johnson.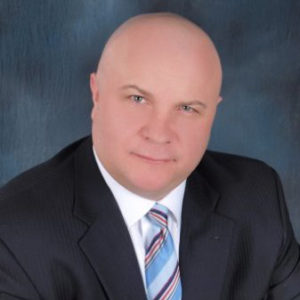 "Veterans face many unique challenges in this country. We want to make sure putting food on the table is not one of them," emphasized Gallant President Joe Hagan. "Our corporate name, Gallant Brands, was inspired by those who have served so selflessly in the armed forces. We have had a mission to assist veterans since the moment we launched; and as citizens we should never forget to thank our veterans, remember their sacrifices and honor their selfless dedication to protecting our freedoms. Soup for Troops is a warm and comforting 'thank you' from Gallant Brands.  Our hope is to remind them that their sacrifices are always appreciated and never forgotten."
 "It's always a great day when a company like this steps up to do something for our veterans," said Courtney Johnson, director of the Nutley Department of Military Affairs. "Our troops come home to a world where jobs can be scarce, and The Original Soupman soups will be perfect for our veterans and their families. Soup for Troops is a win-win for all of us."
The delicious Original Soupman flavors that will be donated to veterans include: 
• Chicken Noodle Soup –  The ultimate comfort soup, brimming with fresh ingredients like tender chicken, carrots, potatoes, asparagus, parsnips, yellow squash, Brussels sprouts, cabbage and noodles. 
• Shrimp Bisque – Filled with plump real shrimp and Orzo pasta; 
• Lobster Bisque – Brimming with succulent fresh lobster and veggies; 
• Gluten-Free Lentil – Offers a hearty, fiber-rich meal
• Chicken Gumbo – The authentic soulful southern delight
• Crab and Corn Chowder – a seaside inspired fan favorite.
Famous for the slogan, "Soup for All™" The Original Soupman delivers these same wholesome, delicious and soulful soups right to your front door from its website, OriginalSoupman.com. The Original Soupman's roots began at its 55th St. and 8th Ave. store which inspired the famous "Seinfeld" episode that made Soupman a cultural icon. The soups were praised by the New York Times who called it "Art, not Soup" and the soups were rated #1 by Zagat as it set the standard for excellence.