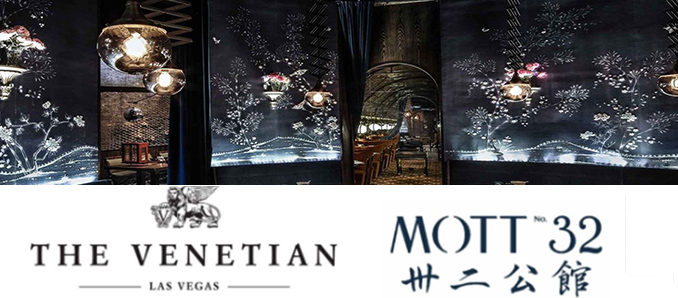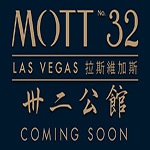 Mott 32, one of Hong Kong's most award-winning restaurants and a culinary icon in contemporary Chinese cuisine, will open its first U.S. outpost this winter, bringing their Eastern concept West to The Palazzo at The Venetian Resort Las Vegas. The acclaimed menu combines authentic Chinese recipes handed down from generations with progressive cooking techniques. Paired with exceptional mixology methods and stunning design, the experience at Mott 32 is truly one of a kind.
"We wanted to do something different by bringing a little of Hong Kong to Las Vegas. Mott 32 is one of the only upscale Cantonese restaurants born in the Far East that will come to The Strip," said Patrick Lang, vice president of restaurant and nightlife development for Las Vegas Sands. "Mott 32 is known for stunning design, innovative yet authentic Chinese cuisine, delicious hand-crafted cocktails and first-class service wrapped up in a vibrant, energetic environment. It is a unique brand that appeals to both Western and Asian customers perfect for our guests at The Venetian."
The name Mott 32 comes from New York's first Chinese convenience store that opened in 1891 at 32 Mott Street and was the nucleus for what is now a vibrant Chinatown in one of the most exciting cities in the world. Mott 32 is thus a celebration of Hong Kong culture and culinary tradition, and represents a modern Chinese city.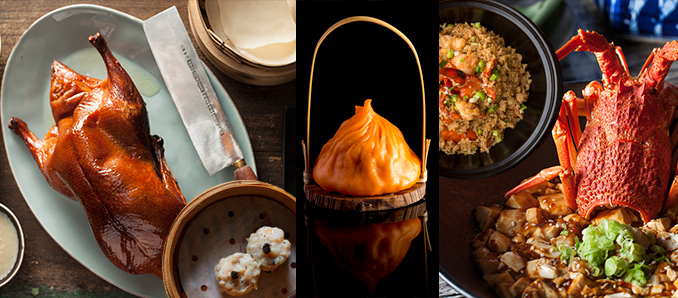 Farm-to-table cooking is at the heart of the restaurant's menu. Led by Group Executive Chef Man-Sing Lee – a two-Michelin star chef in his previous role – and Vegas-based Head Chef Alan Ji, Mott 32's culinary team meticulously sources the finest ingredients, allowing the authentic flavors to shine with delicacies derived from Cantonese, Szechuan, and Beijing cultures. The signature dishes at Mott 32 will include Apple Wood Roasted Peking Duck with Mott 32's "Signature Cut," Barbecue Pluma Iberico Pork glazed with Yellow Mountain Honey, Iberico Pork with Soft Quail Egg and Black Truffle Siu Mai and Crispy Triple Cooked Wagyu Beef Short Ribs.
Mott 32 is a playful scene with a design that dares to be different. Renowned interior designer Joyce Wang will oversee the design of Mott 32 Las Vegas after the critical success of her Mott 32 designs in Hong Kong and Vancouver, which includes winning the "World Interior of the Year" award out of all categories for Mott 32's Hong Kong outlet.
In addition to pairing New York industrialism with classic Chinese elements, The Palazzo location of Mott 32 has an added layer of details rich in Las Vegas culture. Various areas within the venue are delicately lit by neon signage – a cerebral trick on the viewer, who could find this reminiscent of either urban Chinese street market signs or the glimmering lights of Las Vegas.
The designs pay tribute to the history of Las Vegas – from a dining table made out of a vintage Roulette wheel, or the chandelier adorned with a feather boa. These intricate design elements, along with the venue's open, spacious and inviting layout, provide the perfect setting for a full night experience.
"This is a most exciting period in our company's history," said Malcolm Wood, Founder & Group Managing Director of Maximal Concepts. "With the addition of its fourth global branch, set to open in Las Vegas, Mott 32 will reinforce its position as the leading luxury Chinese restaurant around the world. We're excited to introduce the U.S. to a unique, luxurious yet comfortable fine-dining experience with a standard of authentic Chinese cuisine that does not exist here yet."
Mott 32 will be located inside The Palazzo at The Venetian Resort, spanning 11,715 square feet with five private dining rooms, and can accommodate up to 242 seats at any one time. Mott 32 will be open for dinner seven days a week.
Link to photos: https://we.tl/t-y6PiT5X1Rr
Media Contact:
Claudine Grant
Public Relations Manager, Culinary
The Venetian and The Palazzo
702.607.4636
About The Venetian® Resort Las Vegas
Located in the heart of the Las Vegas Strip, The Venetian Resort Las Vegas features all-suite accommodations, exquisite restaurants and world-class entertainment and shopping. The luxury resort offers elegant suites, including standard suites that are nearly double the size of the average Las Vegas hotel room. The Venetian is home to restaurants from celebrated chefs including Thomas Keller, Emeril Lagasse, Lorena Garcia and Buddy "Cake Boss" Valastro. The resort also features Canyon Ranch Spa; a five-acre pool and garden deck; TAO nightclub; the Grand Canal Shoppes retail and dining mecca; a 120,000-square-foot casino and poker room.
Conveniently connected to The Venetian, The Palazzo Las Vegas offers an alluring and elegant resort experience for those seeking a luxurious escape in the heart of the Las Vegas Strip.  Guests enjoy chic all-suite accommodations, world-class shopping, including a flagship Barneys New York, and lavish dining experiences from renowned chefs Emeril Lagasse, Ricardo Zarate, and Wolfgang Puck.  Soaring lobbies and atriums open to exclusive resort amenities, including The Aquatic Club, Grand Canal Shoppes and Canyon Ranch Spa. 
The resort features more than 2.3 million square feet of meeting and convention space, including the Venetian and Palazzo Congress Center and the famed Sands Expo Convention Center.
For more information, visit venetian.com.  The Venetian Resort Las Vegas is a property of global integrated resorts developer Las Vegas Sands Corp. (NYSE: LVS)
Mott 32
Mott 32 represents modern Hong Kong as well as a new chapter of Chinese dining. Named after the famed convenience store on 32 Mott Street in New York, the restaurant captures the dynamism of NYC's vibrant Chinatown and the bravery of its immigrants. It is a restaurant that embodies the Chinese culture and philosophy that has been shaped from generation-to-generation. It embraces flavours and ingredients from around China and the world and delivers it as home cooking should be, in a more rustic and honest way.
For more information, visit mott32.com.