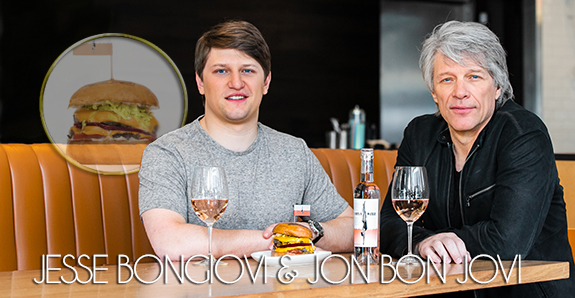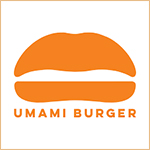 Umami Burger, the world-renowned premium burger brand, is thrilled about their collaboration with Jesse Bongiovi who has created 'The Hampton Burger' as an exclusive culinary creation available at Umami Burger locations nationwide from May 13th through July 14th. Jesse and his father, Jon Bon Jovi have created an incredible award-winning Rosé wine venture known as 'Hampton Water' which will be sold at all Umami Burger locations through this partnership. As part of this exciting collaboration, $1 from each 'Hampton Burger' sold will benefit the charitable organization  JBJ SoulFoundation, which works to break the cycle of poverty, hunger, and homelessness throughout the United States.
"As an entrepreneur, you always try and find amazing people and brands to partner with. Being able to launch a partnership with Jon Bon Jovi, Jesse Bongiovi, and Hampton Water, through our Umami Artist Series is a win-win. We're also very excited about the positive role the sales will make to the JBJ Foundation."– Sam Nazarian"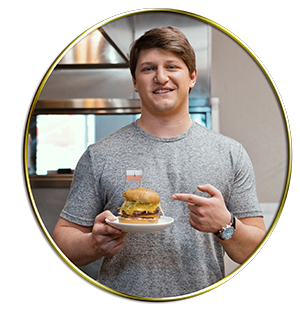 Jesse Bongiovi, Co-Founder at Hampton Water Wine Co., states: "We are very excited to be partnering with Umami Burger. What makes this partnership extra special for us is that a portion of the proceeds go to JBJ Soul Foundation, which is very near and dear to our hearts. We hope that everyone enjoys 'The Hampton Burger' alongside some delicious Hampton Water rosé." Flavorful and full of Umami, 'The Hampton Burger' features a Miso Mustard Wagyu Beef Patty between two layers of American Cheese and Kewpie Mayo topped with roasted tomatoes and diced raw onions, a pickled beet slice, feta crumbles and finished with shredded iceberg lettuce and green chili vinaigrette – all between a freshly toasted bun.  
"Bonjovi explains," Hampton Water Rose has the minerality, depth and flavor notes that lend itself to food." He continues, "Introducing and educating about how enjoyable and easy Rose pairs with everyday meals  is important to us."  
Created exclusively for Umami Burger, 'The Hampton Burger' is available at Umami Burger locations nationwide through July 14th for $13.00
About Umami Burger
Founded in Los Angeles in 2009, Umami Burger has been named GQ's "Burger of the Year," Men's Journal's "Best Burger in America" and one of the "25 Most Innovative Consumer Brands of 2016" by Forbes' CircleUp25. Currently, Umami Burger has globally 26 restaurants in California, New York, Illinois, Nevada in the USA, international presence in the Bahamas, Japan, Mexico with additional locations planned around the world. SBE, the leading lifestyle hospitality company that develops, manages and operates award-winning hospitality venues, is Umami Burger's majority shareholder. For more information on Umami Burger, please visit umamiburger.com or follow @umamiburger or #umamiburger on Facebook, Twitter, and  Instagram.