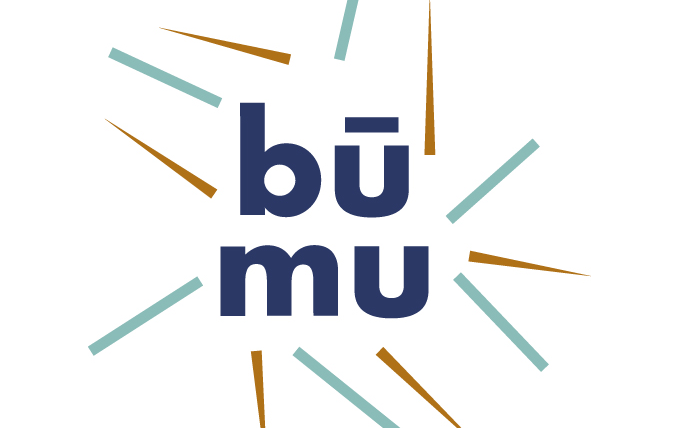 Today, Būmu, which translates to "boom" in Japanese, opens its doors at 61 W 8th Street. Executive Chef Joaquin Baca (Momofuku, The Brooklyn Star, Teo), and Beverage Director & Managing Partner Chris Johnson (Maialino, The Eddy, Mettā) are seeking to bring good food and a convivial atmosphere to the West Village with small plates, local and sustainable beverages, and an inviting and lively design.
With larger groups and solo diners in mind, Baca's dinner menu includes raw items like uni, salmon, and kanpachi — a nod to omakase temple, Neta, which was formerly housed in the space, a selection of yaki skewers grilled over binchotan charcoal, like Baby Octopus with Shiitake and Horseradish and Crispy Pork Belly with Pineapple and Hoisin, and forward-thinking small plates including Agedashi Eggplant with Daikon and Bonito Flakes and Fried Oysters with Smoked Yam Puree, Pickled Jalapeno, and Cilantro. Heartier entrees like Grilled Mackerel with Kinpira Gobo and Umeboshi and a few of the beloved preparations that Baca showcased at Teo, like Cast Iron Okonomiyaki with Smoked Tobiko, Bacon and Mayo, round out Būmu's menu.
Hand-selected by Johnson with the goal of supporting independent, local producers, the beverage menu includes craft beer, sake and natural wine. While guests will enjoy a selection of beer and sake from Japan at Būmu, the primary focus is on local New York makers to evoke a distinct sense of place at the restaurant.
Baca worked closely with designer Christine Yao of Simulacra to bring his and Johnson's vision for Būmu to life. At 53 seats, Būmu features a large, copper, horseshoe-shaped bar, booths, and several high-top tables. The space merges inspiration from izakaya restaurants in Japan with the modern flair of the neighborhood, with textured, colorful wallpaper and wood accents.
"We're so grateful for this opportunity to serve our neighborhood," says Executive Chef Joaquin Baca. "We put our heart and soul into the restaurant, and are so looking forward to welcoming the local community and our industry colleagues into our dining room to enjoy food, drinks and a good time."
Baca joins Būmu after 20+ years working in the hospitality industry in esteemed kitchens like Momofuku Noodle Bar, Momofuku Ssäm Bar, The Brooklyn Star, and his most recent project, Teo. Baca will oversee all menu development at Būmu, and will work in tandem with Johnson to ensure the beverage program is always in sync with his food menu.
Būmu is located at 61 W 8th Street, New York, NY 10011. Reservations can be made via www.resy.com and 212-505-2610. The restaurant is open for dinner Sunday-Wednesday from 5:00pm-10:00pm and Thursday-Saturday from 5:00pm-11:00pm – late night, happy hour, and brunch hours to come. Connect with Būmu at www.bumunyc.com.
For media inquiries, please contact RVD Communications at bumu@rachelvandolsen.com.