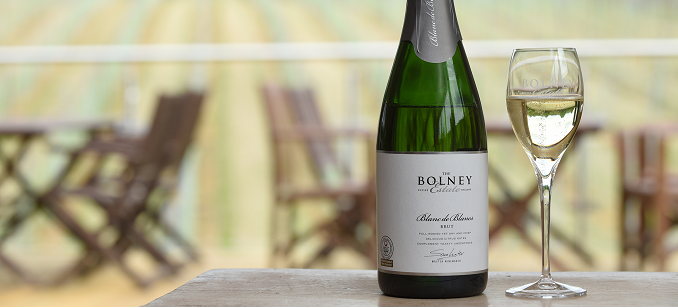 According to the Wine and Spirits Trade Association (WSTA), 2017 saw a record-breaking amount of English wine released into the market. The WSTA also projects that English Sparkling Wine production will double by the year 2022 to approximately 10 million bottles annually with plans to export at least one quarter of this figure to the United States. The wines are popping up more and more in the US, at top restaurants and retailers. In late 2018, the celebrated Hattingley Valley wines signed a nationwide deal with Whole Foods to make its Classic Reserve the first English Sparkling wine to be available across the U.S.
The White Cliffs of Dover, one of the U.K.'s famous landmarks owes their existence to the same ridge of chalky limestone that runs directly across the English Channel and into the prime Southeast English vineyard areas of Sussex, Kent and Hampshire. Climate change continues to boost ripeness levels into vines, making it possible to cultivate perfectly ripe grapes, this unexpected corner of England has been transformed into prime sparkling wine real estate.
In the late 1980's and early '90s, a few visionary producers, notably, the pioneering Nyetimber estate, which remains one of England's top wineries, took a bet on planting chardonnay, pinot noir and pinot meunier, the classic grapes of Champagne. Unlike many aspirational sparkling wine regions, who typically adopt these varieties by default, this decision was based in extremely sound logic of the climate, the soil's chalk content and the growing conditions that closely mirror those found in Champagne.
A real turning point for English Sparkling Wine was its scoring against famous Champagne houses. After the results of blind taste tests were revealed, people became more informed and realized that English Sparkling Wine was commensurate with the quality of Champagne. Many Champagne houses are investing in vineyards in the south of England and earlier this year, Vranken-Pommery became the first big Champagne house to release an English Sparkling Wine.
English Sparkling Wine recognizes that it will be compared to Champagne but England feels that it can stand on their own two feet and carve out a unique identity of its own and ensure the classic status of English bubbly in the years to come. The essential hallmark of the "English style" is freshness. This is not the usual run-of-the-mill, cool-climate freshness but an almost electric jolt of acidity, infused with bracing minerality and orchard fruit.
Each winery interprets this profile through its own stylistic lens yet there is a singular regional expression that stands apart from the other sparkling wines of the world. English Sparkling Wine has a fresh clean style which highlights the quality of its fruit which is a result of England's long, cool, growing season. Below is a bit about different English wineries and wines that are available in the United States.
Hattingley Valley, is a family owned business located in Hampshire, England which specializes in making premium English sparkling wines using the traditional method. Simon Robinson established Hattingley Valley in 2008 when the first vineyard was planted with Chardonnay, Pinot Noir and Pinot Meunier. Currently they manage over 60 acres of vines across two sites. The custom-built, eco-friendly winery was completed in 2010 with the first release in August 2013. Hattlingley Valley is the first solar powered winery in the UK and it utilizes the latest technology and equipment from the UK. The multi-award winning wines are produced by the talented winemaker Emma Rice and her team.
Some exciting news is that Hattingley Valley's Classic Reserve is now available at 420 Whole Food stores across 40 states. This is the first English wine available across the US. While many brands are available on-line through wine.com and other online retailers, having a brand being sold across the US is a big export win for England.
Hattingley Valley Classic Reserve sparkling wine is made using the traditional method from a carefully selected blend of traditional varieties, the result is an elegant wine with finesse and characteristic toasty flavor. Pale gold in color with an abundance of fine bubbles, this wine has vibrant baked apple, creamy nougat and brioche notes on the nose, supported by a hint of yeast and fresh fruit. With notes of soft lemon sherbet on the palate, the wine has a beautiful weight from the partial oak fermentation of the base wine. Refreshing and perfectly balanced, this wine has a delightful long finish. The wine retails for $45 at Whole Foods. It can also be purchased online at Wine.com and the online price is $48.99
Chapel Down is the most awarded English winery and its wines are produced using the intricate Traditional Method, the same method as Champagne, where the bubbles occur naturally within the bottle. The winery produces a variety of styles from the youthful and vibrant Brut NV, to the more mature and complex Three Graces which is aged for four years before the release. Chapel Down is served at Buckingham Palace, notably at the Duke and Duchess of Cambridge's wedding. Chapel Down's Three Graces 2011 has won 95 Wine Enthusiast points and is listed in their Top 100 wines (#26). Its complex aromas of ripe red apple, buttered brioche and toasted hazelnuts with a fine mouse rich palate and an elegant long finish show the true quality of this excellent growing season. It is an ideal alternative to vintage Champagne and it is a wonderful aperitif. It can be purchased nationally at Wine.com and retails for $59.99.
Exton Park Vineyard is an award-winning English sparkling wine producer. Their single-vineyard is planted on the rolling chalk slopes of Hampshire's South Downs National Park. The result of three careful plantings over a number of years, at 55 acres, Exton Park is one of the largest vineyards in the county. Their terroir mirrors that of the most famous sparkling wine region in the world, and, with a similar cool, northerly climate, they produce some of the finest wines in England. The vineyard is planted with three main grape varieties that are known to produce elegant wines when grown on chalk, Chardonnay, Pinot Noir and Pinot Meunier. With a state-of-the-art winery on the estate, a distinctive chalk terroir, and a talented winery and vineyard team, Exton Park Vineyard has established itself as one of the leading English sparkling wine producers.
Exton Park Brut Reserve NV is an elegant expression of Exton Park's unique chalky terroir. Made from a blend of 60% Pinot Noir and 40% of Chardonnay wines from several years, this is a refreshing wine that can not only be served as an aperitif but also matched to salmon, white meat, and even a raspberry cake. In color, the crystal clear gold color tends almost to the green. Its fresh attractive nose is generous, with a lemon character and note of passion fruit. A lovely minerality in the mouth indicates a good, balanced structure, with an intense backbone and very long finish with some white pepper notes. The wine retails for $36 and it can be purchased online here: https://www.mcf-rarewine.com/collections/sparkling-wine/products/exton-park-brut-reserve-nv
Exton Park Rosé NVA is sparkling pale pink Rosé with a surprising depth of fruit, this wine is made by very slowly and carefully pressing 70% Pinot Noir and 30% Pinot Meunier grapes for just the right amount of time to achieve the subtle color. An ideal aperitif or 'celebration' drink, but also good with shellfish or light meats — as well as fine charcuterie like Lomo or Bresaola. The wine displays its delicate pink color like roses in a garden when the new buds are blossoming. After an open and enticing nose of strawberry licorice, the wine reveals rich fruit characters in the mouth, including white peach and the rich plum flavors of the Pinot Noir. This well balanced Rose is the perfect example of the complexity of the Exton Park vineyard. The wine retails for $44.99 and can be purchased online here: https://www.misterwrightfinewines.com/sku48271.html.
Nyetimber, is a true pioneer in the English sparkling wine world. They were the first producer of an English sparkling wine to exclusively grow the three celebrated grape varieties, Pinot Noir, Pinot Meunier and Chardonnay. They grow their grapes on nine separate sites and all have the perfect green sand and chalk soils to allow their vines to flourish across the South of England. Nyetimber uses only estate-grown grapes from their vineyards to ensure the finest fruit is used to craft their wines. Nyetimber's wines are crafted according to the traditional method, ageing them for extended periods of time to build complexity and flavor. This exceptional craftmanship sees the coming together of science and artistry. Cherie Spriggs, Nyetimber's winemaker won, the Sparkling Winemaker of the Year in 2018 and this win marks the first time a winemaker from outside Champagne won this award in the history of the International Wine Challenge. Cherie has been nominated twice in the past three years. Nyetimber Blanc de Blancs 2010 has won 95 points from Wine Enthusiast. It is pale gold in color with a fine bead, this Blanc de Blancs is the essence of pure Chardonnay. The aromas and flavors are in perfect harmony, beginning with a delicate floral and citrus entry followed by subtle vanilla and toast arriving at the end. A long and complex finish makes this a wine to be savored. Its depth and serious intent shows amid the sensuously fine fizz and the pure and lasting finish leaves you wanting more. Priced at $72.00, it can be purchased at Gordon's Wines.