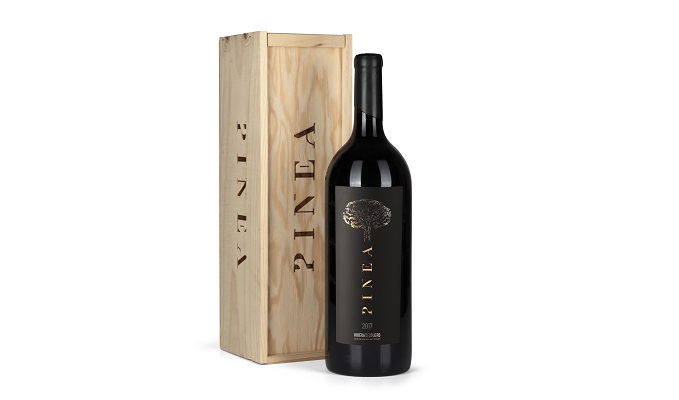 After three years of anticipation following its initial U.S. debut, the 2017 vintage of PINEA – made with 100% Tempranillo grapes from 40-to-100-year-old vines at PINEA's 80-acre estate in Spain's famed Ribera del Duero winemaking region – is ready to pour and available to purchase at fine wine stores throughout the U.S. or online (SRP $150) to states where distribution is not available.
PINEA's debut vintage 2014 made its U.S. market entry in the fall of 2017 and became an instant success due to its elegant flavor profile and lifted complex aromatics. The following year, PGA Tour pro Sergio Garcia served it during his 2018 Masters Champions dinner, which helped fuel demand from top restaurants throughout the world.
Following PINEA's immediate success and international acclaim, the PINEA team – led by founders Hugo Del Pozzo and Vicente Pliego, along with winemaker and master oenologist Isaac Fernandez, who was referenced by Wine Spectator as "one of Spain's brightest young winemaking stars" – went back to work to produce its next great vintage.
The 2017 vintage of PINEA is characterized by abundant floral and fruit aromatics, the result of daunting weather conditions during the 2017 season, during which the Ribera del Duero experienced its worst freeze in 25+ years. Following meticulous grape selection, careful vinification, and 20 months of aging in new French oak barrels, the 2017 vintage of PINEA shows an abundance of black fruits, blackberries, blueberries, and cherries that integrate seamlessly with the smoky and spicy nuances of coffee, bitter cocoa, black pepper, clove and tobacco, creating a sense of marked depth, complexity and elegant texture on the palate. Its opulent and majestic base reveals soft tannins and boldness in fruit, which makes it remarkably generous for near-term drinking while also rewarding patient cellaring. Its deep ruby red color suggests a round, complex and balanced wine that highlights the maximum potential of Tempranillo at its finest.
With a total production of 16,048 bottles, the 2017 vintage of PINEA has already been ranked as a top 10 wine out of all Ribera del Duero wines by wine critic James Suckling, received a Gold medal in Germany's Mundus Vini summer 2020 wine competition, and accolades from many of the world's top sommeliers:
"PINEA is by far the best Tempranillo I've ever experienced." – Marc Sauter, Advance Master Sommelier Candidate / sommelier and wine educator at Zoe's Steak and Seafood Restaurant in Virginia Beach, Virginia
"PINEA is a world-class expression of Tempranillo at its very best." – Christian Varas, 2016 Iron Sommelier Award Winner and wine director for the River Oaks Country Club in Houston
PINEA is named after the giant Pinus Pinea tree neighboring PINEA's estate vineyard in the heart of Spain's legendary winemaking region, the Ribera del Duero, near the towns of Olmedillo de Roa and Villatuelda. Specifics of the terroir include:
Average elevation of 3,100 feet above sea level, planted on hills with nearly 360˚ aspect ratio (sun exposure)
Extreme seasonal weather with cold, snowy winters and very hot summers, and common daily temperature fluctuations of 40˚F (day-to-night)
Chalky sandy soils with abundant presence of limestone and low organic matter that infuse unique complexity and sense of plac
Sustainable viticulture practices that produce a concentration of flavors, thanks to carefully managed lower yield per vine (necessary to produce top-quality Tempranillo)
ABOUT PINEA
PINEA arose from the desire to produce the best wine in the world. Hand-crafted and made with 100% Tempranillo grapes sourced from PINEA's 80-acre estate in Spain's famed Ribera del Duero winemaking region, PINEA is a round, complex and balanced wine that highlights the maximum potential of Tempranillo at its very best. PINEA awakens the senses and the soul, creating minutes of pleasure and moments that last forever. For more information about PINEA, visit: