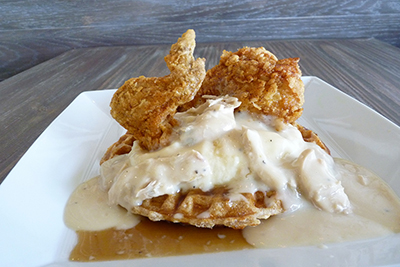 Award-winning Chefs Bradley and Bryan Ogden bring farm-to-table cooking to the fast casual market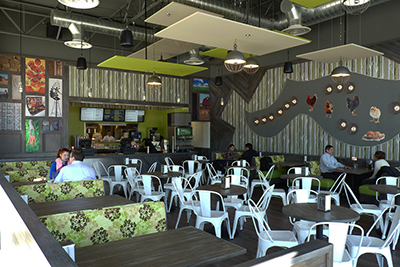 James Beard award-winning Chef Bradley Ogden and his son, Chef Bryan Ogden, are pleased to announce the recent opening of their latest venture, Funky Chicken, in the Heights neighborhood of Houston, Texas. The quick-service casual restaurant features one of America's favorite comfort foods – roasted and fried chicken prepared using local, farm-to-table ingredients.
As with all Bradley Ogden restaurants, the greatness begins with the ingredients. At Funky Chicken, you can expect farm-raised natural, organic and humanely cared for birds. Bradley is quite familiar with the lure of the bird, and Bryan is completely at home preparing recipes featuring all parts of the chicken. The 70-seat restaurant offers something for everyone, whether you want white or dark, roasted or fried, the restaurant can cater to any taste. Also available are "funky style" pot pies with buttermilk-biscuit crust served in individual or family-style portions. The menu also includes a chicken sandwich, salads and sides including Funky (chicken) Fingers with a house-made Ranch dressing, and traditional mac and cheese. Vegetarians also have an option with Gardein, a vegetarian chicken substitute that satisfies that home-cooked craving.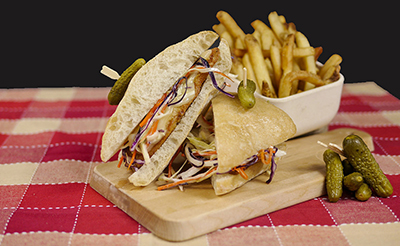 Bradley is recognized as a pioneer and inspiration to many in the culinary field for transforming traditional American food into superbly updated fare. He rose to national prominence as the executive chef at San Francisco's renowned Campton Place Hotel. Later, Bradley and partner Michael Dellar opened The Lark Creek Inn in Marin County, just north of San Francisco. It was followed by One Market Restaurant in San Francisco, Lark Creek with locations in Walnut Creek and San Mateo, Yankee Pier in Larkspur, Parcel 104 in Santa Clara, and Arterra in Del Mar. In March of 2003, Bradley partnered with Caesars Palace to open "Bradley Ogden," his first restaurant outside of California. The restaurant went on to win the Best New Restaurant Award from the James Beard Foundation. His first cookbook, Bradley Ogden's Breakfast, Lunch and Dinner, won the prestigious International Association of Culinary Professionals Award. He was also the recipient of the Best Chef California Award by the James Beard Foundation.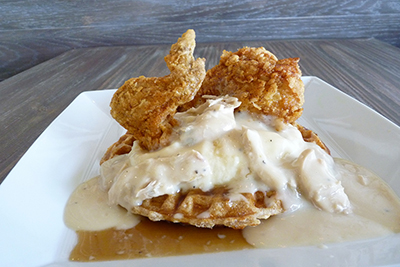 Bryan is regarded as one of the nation's top rising chefs. He has worked with the late Charlie Trotter, Michael Mina, Alice Waters and Michel Richard. After opening "Bradley Ogden" restaurant in 2003 at Caesars Palace in Las Vegas with his father, the restaurant went on to win the James Beard Award for Best New Restaurant in the Country. The restaurant also went on to receive Four Stars from Forbes Travel Guide, formerly the Mobil Travel Guide, and a Michelin Star. In 2008, Bryan opened Apple Restaurant and Lounge in West Hollywood, California, and then joined the culinary team of the highly anticipated Sugar Factory Brasserie at Paris Hotel in 2010.
About Funky Chicken
Funky Chicken was born out of the need for accessible, wholesome, farm fresh food that is served in a quick-casual environment. Since home cooks started preparing chickens so many years ago nothing says home more than the aroma of a chicken roasting in an oven. America has had an obsession with chicken for decades, whether it is slow roasted, fried, or grilled. Chicken is the ultimate comfort food. Top chefs look at chicken as a challenge from their customers, for one can only try to compete with someone's grandmother's recipe. Funky Chicken is Bradley Ogden Hospitality's answer. They have now opened a full-fledged restaurant dedicated to one of America's favorite pastimes; eating delicious, juicy, plump pieces of chicken. As with all Bradley Ogden restaurants the greatness begins with great ingredients. Chefs Bradley Ogden and Bryan Ogden seek the best of the best when choosing their products and at Funky Chicken you can expect farm raised, natural, free-range birds. Being a family man and a chef, Bradley Ogden is quite familiar with the lure of the bird, and being son to Bradley and an award-winning chef in his own right Bryan Ogden is completely at home preparing recipes featuring all parts of the chicken. Who's to say why some prefer dark meat to white, breasts to thighs, or drumsticks to wings. Just know that at Funky Chicken you can have it all prepared slow roasted or crispy. For more information please visit www.realfunkychicken.com.
About Bradley Ogden Hospitality
Bradley Ogden Hospitality, started in 2012 by Chef Bradley Ogden, his son Chef Bryan Ogden, and operations specialist Tony Angotti, is a multi-purpose operations and consulting company. BOH is composed of three divisions: Restaurant Development, Consulting and Design, and Digital. For more information please visit www.ogdenhospitality.com.