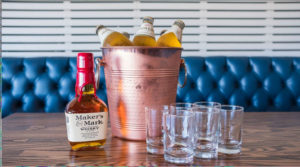 What's not to love about Sundays in San Diego? With gorgeous year-round weather beckoning folks to get out and about, no matter what your plans are to see and do in the SoCal sunshine, by mid-morning you'll have worked up quite an appetite. That's the perfect time to head over to Hundred Proof on Park Boulevard for a bodacious brunch.
Commanding the space previously occupied by S&M Sausage and Meat, the entirely redesigned eatery wraps around its primary focal point: an expansive cocktail bar that's become well known for churning out boilermakers (shots paired with beer chasers), craft cocktails and boozy milkshakes among other killer concoctions. The interior includes an eclectic mix of raw wood and metals, giving the space a rustic industrial-chic vibe. They added indoor-outdoor seating for up to 120 that includes pub tables and plush booths. The result is an unfussy atmosphere that's tastefully funky and decidedly on-trend, with a bevy of hipster patrons to prove it.
I recently visited Hundred Proof for a brunch service, which runs each Sunday from 9 a.m. to 3 p.m., so that I could personally experience what chef-owner Brad Wise has to offer. This includes using the absolute best ingredients he can find and showcasing those ingredients as a form of self-expression. Although it's a decidedly casual locale, Wise likes to dish up the classics in elevated form and often with a twist. "I like to give our guests ingredients, flavors, and dishes they are familiar with but prepared and presented on a level they may not be able to achieve at home," he says.
Hundred Proof's brunch fare upholds this objective through a mix of approachable menu items with fun and bold flavors, with dishes more savory than sweet. The restaurant's focus is "elevated bar food," and brunch menu is no exception. As the perfect example of Wise's unique approach to creating one-of-a-kind dishes, he points to his favorite brunch menu item: Smoked Brisket Hash. This hearty, stick-to-your-ribs dish, which combines eggs, potato, beef fat mayo, corn salsa, pickled peppers and cilantro, is one not-to-be-missed on the brunch menu.
Notables from my own brunch experience included Deviled Eggs with pickled shallot. But the star of that show was the crispy chicken skin topper that made the entire bite sing. The bright fuchsia Roasted Beet Hummus with feta was also a delight, thanks in large part to the toasted pistachios and green onions that added texture and layers of flavor to the root-infused dip. The Fried Chicken Sandwich, served with Tamari aioli, rice wine pickles, cabbage and fries, also impressed as the perfectly seasoned and crisped batter maintained an impossibly moist and juicy cut of meat within. The "HP" monogram branded on the bun was pretty cool, too.
Other menu notables include a Korean short rib bowl, which includes a sunny egg, white rice, spicy aioli, carrots and scallions. Or, indulge your sweet tooth with the caramel apple waffles topped with vanilla whipped cream. Some of the other fan favorite items on their brunch menu, which duly demonstrates its diversity, includes everything from Hawaiian Style Ahi Poke, Spicy Salami Pizza, and Crab Toast to Gorilla Bread with horchata anglaise and ice cream. Indeed, the mix of foods is as varied and interesting as the interior décor and the gregarious staff serving up the sustenance with a smile.
At the bar, the beverage program is equally as progressive as the kitchen. "We think that it is very important that both the front and back of house are on the same level at all times," notes Wise, who wants the bar to push the envelope by reimagining bottle service without the snootiness: "We have the best bottle service program removing the preconceived 'club' version of a big bottle of booze, but piggy backing off our boiler maker theme beer and a shot." An example of this is an option teaming a six-pack of Miller High Life 7oz "stubbies" with a 375ml of Maker's Mark Bourbon. "Our large format cocktails for Brunch are ridiculously fun and delicious," he raves.
Do yourself a favor and check out this kinetic neighborhood gathering spot to savor Chef Wise's signature straightforward style and approach to "better bar food." You'll get why Hundred Proof's finger lickin' mid-day dishes are drawing folks county-wide to Park Boulevard.
~~~
As the Executive Editor and Producer of "The Luxe List," Merilee Kern is an internationally-regarded consumer product trends expert and hospitality industry voice of authority—a travel, dining, leisure and lifestyle expert who spotlights noteworthy marketplace innovations, change makers, movers and shakers. She reports on exemplary travel destinations and experiences, extraordinary events and newsworthy products and services across all categories. Reach her online at www.TheLuxeList.com, on Twitter at www.Twitter.com/LuxeListEditor, on Facebook at www.Facebook.com/TheLuxeList and on Instagram at www.Instagram.com/LuxeListReviews.
***Some or all of the accommodations(s), experience(s), item(s) and/or service(s) detailed above may have been provided or arranged at no cost to accommodate this review, but all opinions expressed are entirely those of Merilee Kern and have not been influenced in any way.***