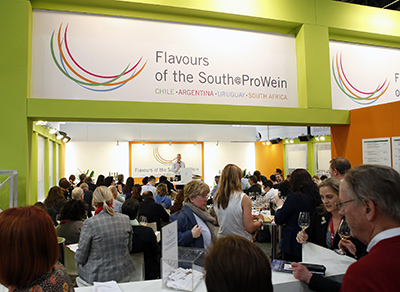 Regional and country trade promotion organizations, commonly known as "Generics" play a very unique role in the American wine trade. Their function is to promote brand awareness, imagery and provide education of the wine region as a whole. "As a group, we are a very important resource for the wine trade in America as a source for new products," said Annette Badenhorst, Director of Wines of South Africa in the U.S. ProWein, International Trade Fair Wine and Spirits, is expecting 4,800 exhibitors and 45,000 trade visitors to attend the show in 2014, and Generics will be among those exhibiting and attending.
New products are recognized as the lifeblood of the industry. "Our experience with importers and on- and off-premise operators is to work with them to help them find the products and ideas they're looking for to help improve and differentiate their offering," added Nora Favelukes, Exec. Director of Wines of Argentina USA. She went on to say that American importers reinforce that attending ProWein is a fantastic opportunity to see the cutting edge of the industry today and to connect with producers and taste wines not yet available in the U.S.
"So when it comes to trade fairs such as ProWein, we are providing a platform on which the individual wineries can present themselves, but also add depth and education along the way. By putting on themed events, tasting pods and master classes, we can use the trade show as an opportunity to engage prospective buyers with our wines," added Badenhorst. Debuting in ProWein 2011, Wines of South Africa, Wines of Chile and Wines of Argentina created an alliance of Southern Hemisphere countries under the heading "Flavours of the South" to leverage budgets, knowhow and networks to expand awareness and market share of three individual countries at ProWein.
Internationally, the U.S. is viewed as a huge potential market, but one that operates very differently from other countries. In Europe, retail buyers attend trade fairs to make deals with individual wineries. There really is no equivalent venue in the US or worldwide. ProWein is drawing an increasing number of visitors from the U.S. particularly at the importer level. That's important for Generics in that the person attending ProWein is effectively the point person in determining what brands are made available in the U.S.
"It's really all about networking," added Marsha Palanci, President of Cornerstone Communications which handles the Rias Baixas account in the U.S. "ProWein has become widely recognized as the one place where the trade can see not only individual producers, but have the opportunity to connect with country and regional trade organizations and benefit from the contacts, information and promotional support that they make available."
ProWein 2014 will take place March 23-25 in Düsseldorf, Germany.
For further information about exhibiting at ProWein 2014, contact Messe Düsseldorf North America, 150 North Michigan Avenue, Suite 2920, Chicago, IL 60601. Telephone: (312) 781-5180; Fax: (312) 781-5188; E-mail: info@mdna.com; Visit our web site http://www.mdna.com; Subscribe to our blog at http://blog.mdna.com; Follow us on twitter at http://twitter.com/FoodBev_MDNA