A smart business opportunity where Italian tradition meets American Ingenuity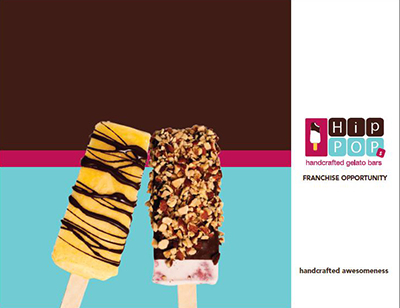 Beginning March 1st, 2014, HipPOPs handcrafted gelato bars will offer the opportunity to franchise one of the deliciously awesome mobile POPtrucks to buyers throughout the United States starting with its search for franchise partners in Central and South West Florida, including The Keys. HipPOPs is America's first all- natural, gluten-free, kosher, mobile premium gelato on a stick concept that has seen much success over the past two years.
The franchise opportunity will offer buyers a unique ownership position in the frozen dessert industry with high margin and low waste due to long product shelf-life. HipPOPs handcrafted gelato bars are not just premium, they are amazing, customizable, memorable and most importantly, they results in a loyal customer following. Buyers will have the chance to jump on board the million dollar and growing mobile food industry, a protected marketing territory, custom blends of HipPOPs proprietary gelato, sorbet, and frozen yogurt recipes, social media buzz, and the perfect work life balance opportunity.
HipPOPs founder Anthony Fellows has owned, managed and operated food service businesses for more than two decades, including experience with frozen desserts dating back to 1990.
Fellows' inspiration for HipPOPs came from his father, who says "If you get up every day and do what you love, it's not work."
Anthony Fellows has been fortunate to have created a fantastic, local, family business, where he and his family work together. Anthony believes this will be a fantastic opportunity for families all over this country searching for a fun, profitable, work-life balance opportunity. He wants to share twenty plus years of frozen dessert industry experience and his innovative vision by awarding territories to passionate driven individuals starting with Florida.
Tired of your 9 to 5? Why invest in HipPOPs and gelato? Anthony Fellows says you will be investing in your own success. This opportunity is for the individual who love the frozen desserts industry, entrepreneurship, authenticity, and love of family. HipPOPs is a one of a kind low overhead business that buyers will love because they will love what they are doing every day.
Anthony Fellow is proving that his HipPOPs mobile truck is welcomed by all walks of life. HipPOPs will be the only dessert truck participating in the 2014 WGC Cadillac Championship on March 5th-9th. HipPOPs has created two signature bars for the high profile event: The Blue Monster Bar and The Trump Bar. The Trump Bar is HipPOPs version of Donald Trump's all-time favorite ice cream flavor, Cherry Vanilla. It is a blend of Americana cherries and handmade vanilla bean gelato and then 1/2 way dip the bar in their signature semi sweet Belgian chocolate dip.
HipPOPs Handcrafted Gelato Bars:
sold 45,798 gelato, sorbet, and frozen yogurt bars
16,107 signature milk chocolate dips
7,933 crushed Oreo toppings
HipPOPs have recently been chosen 1 out of 5 trucks and the only dessert truck for the 2014 Cadillac PGA World Golf Championships at the PGA Doral.
About HipPOPs
HipPOPs follows the old-world tradition of Italian gelaterias with offerings of handcrafted artisan dessert treats, including gelato, sorbet and frozen yogurt. All natural, gluten-free, and kosher, HipPOPs was founded on the principle of bringing the highest-quality and healthiest ingredients to the streets of South Florida with a mobile POPTruck. HipPOPs sources only local, top-quality dairy that adheres to our strict standards to make small, hand-crafted batches at the company's micro-creamery in Dania Beach, Florida. At HipPOPs, traditional methods merge with modern technology, such as social media sites like Twitter, Facebook, Instagram, and Yelp, to keep its treat-seeking, heat-beating customers aware when a HipPOPs Truck full of "Handcrafted Awesomeness" is just around the corner.
To learn more about HipPOPs franchise POPortunity, please visit www.FranchiseHipPOPs.com